Hawaii State Department of Health Now Developing Guidelines to Govern Practices of Hawaii's First Medical Marijuana Dispensaries
Posted on Aug 25, 2015 in Ola Lokahi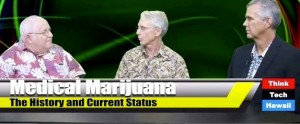 ThinkTech Hawaii TV Show
ThinkTech Hawaii host Jay Fidell recently invited guests Peter Whiticar and Keith Ridley for a show dedicated to medical marijuana, taped before the bill became law. To view the show, click on the following YouTube link: https://www.youtube.com/watch?v=K6RXtea39OA
On July 15, 2015, medical marijuana dispensaries in Hawaii became legal.
Hawaii became one of the first of 23 states to legalize the use of marijuana to treat certain health conditions in 2000, and now, 15 years later, is joining other states that have dispensaries to distribute marijuana for medical use.
House Bill 321, now Act 241, allows up to 16 dispensaries statewide as early as July 15, 2016. The Hawaii State Department of Health is now developing interim rules and requirements for the application process – all in a very compressed timeframe — to accept applications for licenses in January 2016.
Development of Implementation Guidelines Now Underway
Throughout the legislative process, the Hawaii Department of Health raised concerns about the health and safety aspects of this new program and will continue to make these foremost priorities. To meet the implementation deadline, the Department of Health's timeline calls for the guidelines to be drafted with an online application process developed and tested by the end of the year before going live.
"We will be adopting and adapting best practices from other states to draft our own rules to safely and efficiently implement dispensaries for Hawaii's estimated 13,800 registered medical marijuana users," said Keith Ridley, Chief of the Department of Health's Office of Health Care Assurance. "In developing the rules and the medical marijuana dispensary licensing program we are keeping three major foundations in mind – patient safety, public safety, and product safety through a quality control and laboratory testing process.  And on an operational level, as with the start-up of any new program, we are developing job descriptions and qualifications, recruiting and training qualified employees and on a practical level, finding physical space for these employees.  These will be among our first steps."
Requirements in the New Law
The Hawaii Department of Health will issue eight dispensary licenses. Each license holder will be allowed to operate up to two retail dispensaries for a total of 16 statewide. Geographically, they will be spread out across the state: three licenses for dispensaries on Oahu, two each on Maui and Hawaii Island counties, and one on Kauai.
Each license holder can set up two marijuana production centers, with up to 3,000 plants each, which must be grown indoors, and two retail sales locations. Under the dispensary law, licensed dispensaries will be required to grow, process and sell medical marijuana and medical marijuana products.
Safety and Security
"Some may feel dispensaries for marijuana near their homes and workplaces, medicinal use notwithstanding, are too close for comfort. The Hawaii State Department of Health's role is to determine how to best move forward, finding the right balance that considers everyone's perspectives," said Peter Whiticar, Chief of the Department of Health's STD/AIDS Prevention Branch.  Ridley concurred and noted the law prohibits the location of production centers and dispensaries near schools, public playgrounds, and public housing.
While the locations may be a concern for some, it may be reassuring to know there will be 24-hour security at each dispensary site, a requirement written into the Hawaii law that is not required in states such as Colorado, where all forms of marijuana use, including recreational use, have been legalized.
Quality Assurance
Some states have experienced a proliferation of testing laboratories where consumers are testing marijuana products they purchase, either for medical or recreational use. The Hawaii State Department of Health will not be directly involved with any product testing, but will instead certify the testing labs and provide ongoing oversight by establishing laboratory quality control standards and by requiring all licensed dispensaries to test their products prior to making them available for sale.
While the details are still being determined, the Hawaii Department of Health will ensure the labs have appropriate credentials and operating procedures, and make safety and quality control priorities on a consistent basis to test marijuana that will be ultimately consumed by patients.  This will give Hawaii patients more confidence that what they are buying has a certain level of cannabinoids, which are responsible for the reported positive physical and psychological effects on patients.
Ongoing Monitoring of the Law's Impact
The Hawaii Department of Health will continue to monitor the impact of this new law on public health, including motor vehicle collisions, falls, and other incidents that may be related to the use of marijuana.
Background
The medical marijuana patient registration program was transferred from the Hawaii State Department of Public Safety to the Hawaii State Department of Health in January 2015, as part of Act 177. The Department of Health has introduced its own medical marijuana website which is the main portal for the public to learn about the program and coming developments (http://health.hawaii.gov/medicalmarijuana/). Also now available is an online application process for physicians and a confidential online system than can be used by law enforcement officials to verify that those found growing or using marijuana are certified medical marijuana patients.