Hawaii State Department of Health Launches New Crisis Line "Warm Line" Dedicated to Suicide Prevention in Hawaii
Posted on Aug 25, 2015 in Ola Lokahi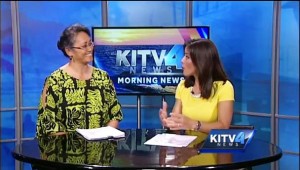 Belinda Danielson, Crisis Line Supervisor, shared details about the program with KITV morning news show anchor Lara Yamada.
In Hawaii, suicide is the most common cause of fatal injuries among residents, outpacing car crashes, homicide, poisoning and drowning. It is estimated that one suicide is committed every two days in Hawaii. In fact, about 20 percent of the 90,000 calls received on the Department of Health's ACCESS Line last year related to crisis intervention, according to Steven Balcom, Crisis Services Coordinator with the Adult Mental Health Division of the Hawaii State Department of Health.
The Hawaii State Department of Health's Adult Mental Health Division (AMHD) is keeping pace with our community's growing need for mental health services.
Since the statewide ACCESS Line program was launched in 2002, it has served a two-fold purpose. It has provided phone counseling and other crisis support to individuals who are contemplating suicide or experiencing other types of personal crises, and served as the "front door" for people seeking  to access State-funded mental health services.
Two Phone Lines to Better Serve the Community
After thoroughly reviewing how to effectively address both needs, AMHD has decided to offer two separate phone lines to the public.
The newly named Crisis Line of Hawaii went into effect in July. The Crisis Line of Hawaii is the statewide suicide hotline and provides telephone counseling support ("warm line" services) as well as dispatching mobile crisis workers for individuals in the community who are at high risk and need urgent assistance.
"This phone line is strictly dedicated to helping individuals who are facing crises," Balcom said. "To reinforce this we have renamed the ACCESS Line the Crisis Line of Hawaii. This reflects our renewed focus on our program's primary mission of providing crisis support to the community."
Different Name, Same Phone Numbers
Although the name of the program has changed, the phone numbers remain the same. On Oahu callers can reach the Crisis Line by dialing 832-3100. Neighbor island residents may call toll free at 1-800-753-6879.
Newly Established Eligibility Line for Adult Mental Health Services
This newly-established phone line is dedicated to helping people find out if they are eligible for government-sponsored mental health services. The number for the new AMHD Eligibility Line, which is now operational, is 643-AMHD. This is a toll-free number from anywhere in the state.