Hawaii State Department of Health: Eating and Leading by Example
Posted on Apr 30, 2015 in Ola Lokahi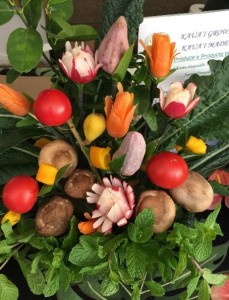 When Adele Ching, Coordinator for the Senior Medicare Patrol (SMP Hawaii) Program in the Executive Office on Aging, an agency of the Hawaii State Department of Health received the department's newly adopted Nutrition Wellness Policy, she immediately took it to heart.
In planning the Volunteers Training and Recognition Conference on May 15, 2015, Adele worked with Wayne Rapoza, Manager of the Airport Honolulu Hotel, to make sure there were healthy choices on the menu.
"He was very supportive and put together a menu of yogurt, granola, and boiled eggs instead of pastries for our continental breakfast, and steamed fish and baked chicken with a fresh fruit platter instead of cakes for lunch.  Mr. Rapoza was very accommodating," she said.
Earlier this month, DOH adopted the Nutrition Wellness Policy which requires DOH meetings, training sessions, workshops, conferences, and other events to offer healthy food and drink options, if the event is sponsored with state or federal funds. The new policy is designed to promote a healthier work environment, giving DOH employees, partners and meeting participants the opportunity to choose from healthy options.
Eating a healthy diet may help individuals maintain and/or lose weight and is a recommended strategy in the fight against the obesity epidemic. Currently, more than half of Hawaii's workforce is overweight or obese, and one in five people has diabetes or pre-diabetes, costing the state over $1.24 billion dollars a year in direct medical costs ($470 million for obesity- and $770 million for diabetes-related expenditures). Absenteeism and lost productivity in the workplace due to obesity and chronic disease cause additional financial losses for employers.
As the state's public health agency of nearly 3,000 employees, DOH is the ideal organization to lead the charge towards healthier work environments. In doing so, DOH hopes to inspire other state agencies– which together make up over 10% of Hawaii's workforce– and private sector employers to adopt similar standards for their meetings and conferences, to put the state on a positive path to better health.
The DOH's Nutrition Wellness Policy was based on the federal Worksite Wellness Policy, adopted by the U.S. Department of Human Resources Development. It calls for the provision of water; foods low in added sugar; fat-free, low-fat, or trans-fat free foods; low or reduced-sodium; locally grown or organic fresh vegetables and fruits; whole-grain foods; vegetarian options; and other foods that promote longevity and reduce disease. The policy does not apply to internal meetings where state or federal funds are not used, such as employee potlucks and food brought by employees to share with coworkers. Vending machines, snack shops, and cafeterias operating in DOH buildings are also exempt from the policy.
To view the DOH Nutrition Wellness Policy, along with easy-to-follow handouts for employees and caterers/vendors contracted by DOH, visit http://health.hawaii.gov/physical-activity-nutrition/home/policy-work/.