Hawaii Retains #1 Position in
National Health Rankings
Posted on Jan 27, 2015 in Ola Lokahi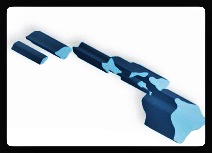 Hawaii is #1 in health rankings in the nation for the second consecutive year, according to America's Health Rankings, the longest running comparative health index of states. The rankings were released in December 2014.
America's Health Rankings, sponsored by United Health Foundation in partnership with American Public Health Association and Partnership for Prevention, are updated each year and provides a perspective on change in health over the last 25 years.
It's important to note the health rankings are based on aggregated data.  Our state's overall ranking was the best in the nation, but not all Hawaii residents are enjoying optimal health. For example, some ethnic groups experience significantly worse health than average.  The Department of Health continues to focus on these areas and populations or gap groups to improve their health status. In addition, the department will work to improve areas such as declining childhood immunization rates.
The primary objective of America's Health Rankings is to stimulate discussion and action among individuals, community leaders, elected officials, health professionals, educators, and employers to improve the health of each state and the nation. Click here to view America's Health Rankings. http://www.americashealthrankings.org