Hawaii Named Healthiest State in the Nation…But There's Still Has Room for Improvement
Posted on Dec 23, 2015 in Ola Lokahi
Hawaii was recently named the healthiest state in the nation for the fourth consecutive year, based on statistical data gathered by the United Health Foundation in collaboration with the American Public Health Association. The 26th annual America's Health Rankings was published on Dec. 10, 2015 and is the longest-running annual assessment of America's health, starting in 1990.
One of the factors contributing to Hawaii's first-place ranking was Hawaii's low prevalence of obesity and diabetes. According to the data from the 2015 America's Health Rankings, 22.1 percent of adults in Hawaii are obese compared to 29.6 percent nationally. The figures are based on the percentage of the population who have a body mass index (BMI) of 30 or higher.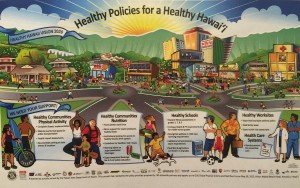 Room for Improvement?
How can we as a state improve, if we're already ranked number 1 in the nation? Dive into the numbers and you'll see opportunities.
Data from the America's Health Rankings annual reports shows that prevalence of obesity in Hawaii has steadily risen over the past 25 years. In 1990, Hawaii's obesity prevalence was 9.1 percent, and in 2014 it was 22.1 percent. Hawaii's obesity rate doubled over the last 15 years, and we are now seeing similar trends with diabetes rates.
The Hawaii Department of Health estimates that our state spends $470 million on obesity-related medical costs. This figure does not include indirect costs such as reduced worker productivity and absenteeism that results from health conditions related to obesity.
Taking Action
Many are already taking action to address obesity in our state.  The Obesity Prevention Taskforce, composed of more than 30 community organizations, including the Hawaii Department of Hawaii, is proposing policies that make active living and healthy eating the easy choice wherever people live, work, play, and learn.
An inspiring mural captured the input from more than 140 participants during a forum on proposed health policies to improve the health of Hawaii's people. The mural, titled, "Healthy Policies for a Healthy Hawaii," depicts 19 state-level policies across four sectors of society: communities, worksites, schools, and health care systems. Learn more at http://health.hawaii.gov/chronic-disease/events/