Get to know Dr. Michael Champion: medical director for the Adult Mental Health Division and the new Hawai'i Medical Association President
Posted on Dec 19, 2019 in Ola Lokahi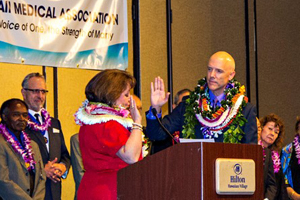 Dr. Champion came to Hawai'i in 2013 and is board certified in psychiatry and forensic psychiatry. He was recently appointed President of the Hawaii Medical Association (HMA), and works with physicians and stakeholders across the state to promote the science and art of medicine, improve public health, and support quality patient care. We recently had a chance to catch up with Dr. Champion to learn more about his new role and how he got his start in medicine and public health.
Q: What was the first thing that made you interested the medical field?
A: I enjoyed science and math classes when I was in school. When I was a junior in high school, I completed a career internship placement for a semester with a cardiothoracic surgeon at the local university hospital. I had the opportunity to wear a white coat, participate in rounds in the hospital and clinic, and observe surgeries. I learned first-hand how the knowledge delivered through science could be applied to helping people heal and improve their lives.
Q: How did you become Medical Director of the Adult Mental Health Division?
A: I trained in both clinical and forensic psychiatry during my medical education. I came to the Department of Health in 2013 when I began serving as Forensic Chief for the Adult Mental Health Division. In addition to that role, I served as Acting Psychiatry Chief beginning in June 2018. I transitioned to the role of Medical Director for AMHD in June of 2019.
Q: What do you feel are your most important duties with AMHD?
A: To collaborate with the branches and offices of the division and key external agencies, to ensure that our delivered services are appropriate and person-centered with attention to four strategic priority areas 1) telehealth, 2) integration of primary care and behavioral health services, 3) evidence-based practices using data-driven decision making, and 4) special populations (individuals with co-occurring conditions, intellectual/developmental disabilities, and/or justice involvement).
Q: Can you share about a moment that makes you proud of the Adult Mental Health Division?
A: The Behavioral Health Administration and AMHD have committed people dedicated to improving the lives of individuals in our community living with behavioral health conditions. I am proud of the work that we do every day to promote and improve the mental health of the people of Hawai'i. There are so many examples, but one that stands out is the AMHD's response in providing support for residents of the Big Island during the eruption of Kīlauea. More recently, the BHA and AMHD have been integrally involved in the inaugural Hawai'i statewide Summit on Improving the Governmental Response to Community Mental Illness that focused on how to better meet the needs of persons with mental illness and behavioral health issues, including those who become involved with the criminal justice system.
Q: What are one or two of your most memorable medical or public health accomplishments?
A: In the BHA, we work as a team across its divisions to use a systems approach to improve the mental health of the people of Hawai'i. I have worked with our team to develop and implement a statewide Mental Health Emergency Worker (MHEW) program. The MHEW program provides mental health consultation services and support for county and state law enforcement agencies to address the needs of people encountered in the community who are in crisis.
The BHA team has also worked closely with law enforcement and community partners to develop a Crisis Intervention Team (CIT) program in Honolulu County and implement it in collaboration with the Honolulu Police Department. The CIT program is a community partnership of law enforcement, mental health and addiction professionals, individuals who live with behavioral health conditions, and their families and other advocates. It is an innovative first-responder model of police-based crisis intervention training to help people with behavioral health conditions access medical treatment, rather than place them in the criminal justice system due to illness-related behaviors. It also promotes officer safety and the safety of the person in crisis.
Q: What would you like to say about your new role with the Hawaii Medical Association?
A: HMA received its charter in 1856 from King Kamehameha IV. The association's goals include promoting the science and art of medicine, improving public health, supporting quality patient care, participating in the development of health policy, and providing timely information about vital issues in medicine. These goals complement the Department of Health's mission to improve the health of all people of Hawai'i and its goal to promote health and well-being in our state.
Q: What advice do you offer to DOH staff looking to bridge public health and medicine, with the medical field?
A: DOH's statutory mandate is to foster and coordinate a comprehensive mental health system to promote, protect, preserve, care for, and improve the mental health of the people of Hawai'i. Delivery of medical services within the DOH requires the use of a systems approach to ensure that appropriate services are provided to those in need. This approach has public health at its heart.
Q: Any further advice for DOH staff?
A: We often encounter cross winds in our day-to-day work that can challenge our ability to stay centered, both personally and professionally. In those strong winds, it is important to pause, re-center and focus on taking care of ourselves as we strive to serve others.
The spirit of Aloha will serve us well as we seek this centered balance which allows us the space to remember who we are and what truly moves us. Love is the prime mover. Love yourself, love your work, and love those that we serve.
I am reminded of the wise advice given by Rumi, the Persian poet and Sufi Master who said:
"Yesterday I was clever, so I wanted to change the world. Today I am wise, so I am changing myself."
"All doubt, despair, and fear become insignificant once the intention of life becomes love."
"Your task is not to seek for love, but merely to seek and find all the barriers within yourself that you have built against it."