DOH and Hep. Free Hawaii launch local campaign to increase hepatitis awareness
Posted on Apr 30, 2015 in Ola Lokahi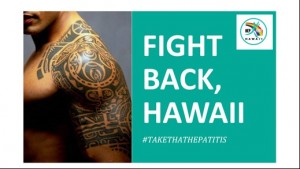 Hawaii has the highest rate of liver cancer in the nation, and the leading causes of liver cancer in Hawaii are hepatitis B and C. According to DOH, about 50,000 people in Hawaii may be living with hepatitis B and C, and most are unaware of their infection. That means many people are not accessing medical care and treatments that are now available to manage or even cure hepatitis.
In commemoration of Hepatitis Awareness Month and Asian Pacific Heritage Month in May, Hep Free Hawaii (HFH) in collaboration with the Hawaii Department of Health (DOH) is launching the "Take That!" campaign to raise awareness about hepatitis in Hawaii.
The "Take That!" campaign uses social media to bring attention to hepatitis and its impact on local communities. The campaign encourages using downloadable referral forms to increase access to screening and vaccinations. Hep Free Hawaii is also holding a social media contest in May with prizes from local supporters, including Paiko, Pig and the Lady, and Reise Kochi LLC.
"We don't have to let hepatitis take our communities. We can take action," said Dr. Linda Wong, M.D., transplant surgeon at Queens Medical Center and HFH member.  "We hope the Take That! campaign will empower local communities to fight back against hepatitis."
Community members can participate in the campaign by "taking action" in three ways:
Download "Take That!" testing and vaccine referral forms from hepfreehawaii.org.
Follow @hepfreehawaii on Facebook, Twitter, and Instagram to join the contest.
Tag local efforts on social media with the hashtag #takeTHAThepatitis.
For more information about the "Take That!" campaign, go to www.hepfreehawaii.org, follow @hepfreehawaii on Facebook, Twitter, or Instagram, or contact Thaddeus Pham at phone: 808-733-9298  or at [email protected]