Curbing Obesity: Offering Healthy Snacks Makes Financial Sense
Posted on Mar 3, 2015 in Ola Lokahi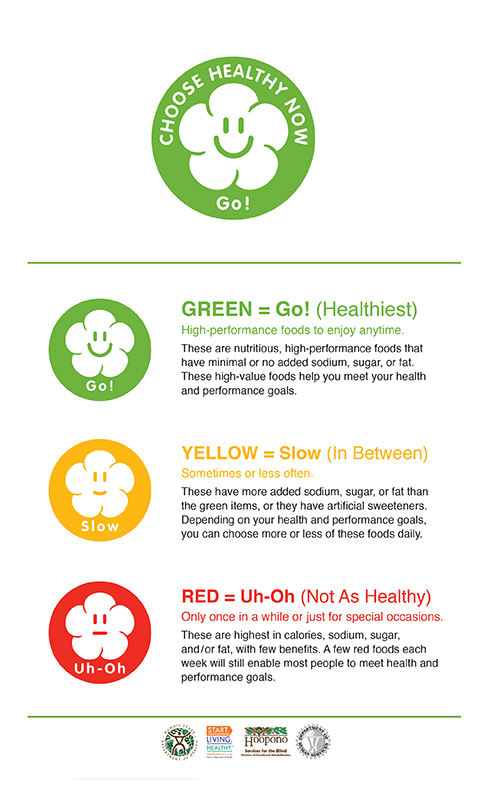 Offering healthier food choices is good business. That's the experience of blind vendors of the Choose Healthy Now program, a pilot project in six state and federal government vending sites on Oahu. Choose Healthy Now helps employees identify healthy, moderately healthy, or unhealthy snacks and drinks by labeling them with green, yellow and red stickers ("Go!", "Slow", and "Whoa".)  Since the program launched last year, vendors have significantly increased healthy snack and drink options in their snack shops. Green "Go!" options have increased by 128%, and yellow "Slow" options have increased by 10%, creating a diverse mix of snacks and drinks from which people can choose.
Providing healthy food options where people work increases the likelihood that they will adopt a healthier diet.  Hawaii currently spends $470 million a year on obesity-related medical costs and $770 million on diabetes-related medical costs. Without effective interventions, half of adults in Hawaii are projected to be obese by the year 2030.
Choose Healthy Now is being implemented in partnership with the Department of Human Services' Division of Vocational Rehabilitation Ho'opono Vending Program.  The Department of Health is in the process of expanding to six additional Ho'opono vending sites and has already worked with Castle Medical Center to implement Choose Healthy Now in their cafeteria. Over the next few years, the Department of Health will offer the program to additional hospitals and private business worksites throughout the State.
Healthy vending is part of a worksite wellness program that makes changes to the work environment that can impact employee health. Worksite wellness programs have proven effective at improving the health of employees, lowering overall health care costs, reducing absenteeism, and improving employee morale and productivity.