Cleanup of Jet Fuel Release at Sand Island Facility Still Underway
Posted on Apr 1, 2015 in Ola Lokahi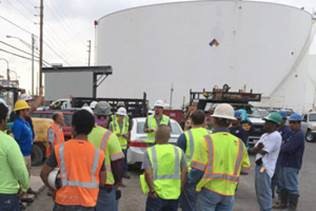 The Hawaii State Department of Health's Hazard Evaluation and Emergency Response (HEER) Office team continues to work closely with the U.S. Environmental Protection Agency (EPA) to oversee the cleanup of a 44,000-gallon jet fuel release from a tank farm facility near Sand Island that occurred in January, 2015.
According to Keith Kawaoka, deputy director of Environmental Health, approximately 25,000 gallons of jet fuel have been recovered from the ground to date, and product continues to be pumped from extraction trenches to support the ongoing recovery efforts and to prevent fuel from reaching the waters of the nearby harbor marina.
"Cleaning up a release is a critical component of the response phase. Many may not realize that it requires considerable and concerted attention to prevent an unfortunate incident from further damaging the environment," Kawaoka said. "The HEER Office team, led by Terry Corpus, state on-scene coordinator, has been doing a great job of staying on top of the cleanup process."
Airport Service Group International (ASIG) reported earlier to the Department of Health that the spill was the result of a leak in the bottom of one of its 16 above-ground fuel tanks, each with a 2.8 million-gallon storage capacity.
The EPA issued a Clean Water Act order to ASIG, the facility operator, which distributes jet fuel to airlines at Honolulu International Airport, and Hawaii Fueling Facilities Corp., the facility owner.
The compliance order requires the facility owner and operator to clean up petroleum released to the environment, prevent further releases and impacts to the environment, and repair all damaged equipment at the facility to prevent future releases.