And the "Rethink Your Drink" Winners Are…
Posted on Feb 11, 2015 in Ola Lokahi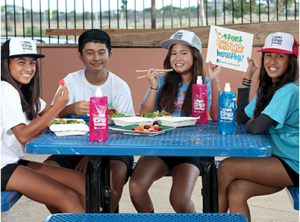 On average, Hawaii's teens drink 8.6 sugary drinks per week — more than any other age group. That translates into the average Hawaii teen DRINKING 40 pounds of sugar a year! And this puts Hawaii teens at risk for gaining up to 10 POUNDS  in one year.
The Hawaii Department of Health launched the "Rethink Your Drink" media campaign in 2013 and as a result of the campaign's success, 60% of teens switched to healthier beverages after seeing the ads. Last year, to further engage Hawaii's youth and provide them an opportunity to speak out, the department collaborated with KHON 2 on a teen video contest. The contest challenged students to create 30-second videos that could be aired as commercials to educate other teens and parents about the health effects of consuming sugary drinks.
All entries were reviewed by a panel of judges from the Hawaii Department of Health, KHON2, Physical Activity and Nutrition Media Group and University of Hawaii–Office of Public Health Studies. The entries were evaluated on the basis of originality, creativity, quality accuracy of information, impact of message and overall impression.
The video entries of the finalists, four from the middle school category and four from the high school category, were posted on the KHON2's website for the public to view and vote for their favorite videos in each category.
The winners are "Caution – Soda" by Moanalua High School in the high school category, and "What's In It?" by Kawananakoa Middle School in the middle school category. The winners received Consolidated Theater gift cards.  Congratulations are also due to the finalists: "Sugar Adds Up" submitted by Kalaheo High School; "Fight the Sugar" and "Missing Bubbles" both by Moanalua High School; and "Stop & Take a Moment" by Waipahu Intermediate School. To view the winning videos and those by the finalists, click here. (http://www.healthyhawaii.com/rethink-your-drink/) Watch KHON2 and Hawaii's CW to see all of these commercials on television from February to April.
Everyone's a winner for having learned more about the importance of making healthy choices in drinks and sharing their knowledge with others. Congratulations!