Hawai'i COVID-19 Daily News Digest October 8, 2020
Posted on Oct 8, 2020 in COVID-19
Department of Health:
One Death and 101 Additional Coronavirus Cases Reported Today 
Another death has been reported today, raising Hawai'i's COVID-19 death toll to 164. The latest case involved a woman, between 50-59 years old who had underlying conditions and was hospitalized at the time of her death.
Hawai'i COVID-19 Counts as of 12:00 noon, Oct. 8, 2020       
Island of Diagnosis       

New Cases       

Reported since       

2/28/2020       

(including new cases) 

O'ahu       

86

11,788

Hawai'i       

14

866

Maui      

1

378 

Kaua'i      

0 

59 

Moloka'i       

0 

19 

Lānaʻi   

0 

0 

HI residents diagnosed outside of HI      

0

36

Total Cases       

101

13,146

Deaths       

1

164 
Hospitalization count as of 10/7/20 at 2:07 pm: 16-Hawai'i, 1-Maui, 94-O'ahu, 0-Kaua'i   
7-Day Averages  
  

Daily New Cases   

(change from previous day)  

% Lab Positive  

(change from previous day)  

Statewide  

91 (-2)  

2.6% (+0.0)

O'ahu  

73 (+0)  

3.2% (+0.1)

Hawai'i  

17 (-1)  

 2.7% (-0.2)

Kaua'i  

0 (+0)  

0.0% (+0.0)

Maui  

1 (+0)  

0.3% (+0.0)
*Metrics reflect information updated as of noon the previous day. Case counts are calculated based on date of report. Percent positivity is calculated based on date of lab result.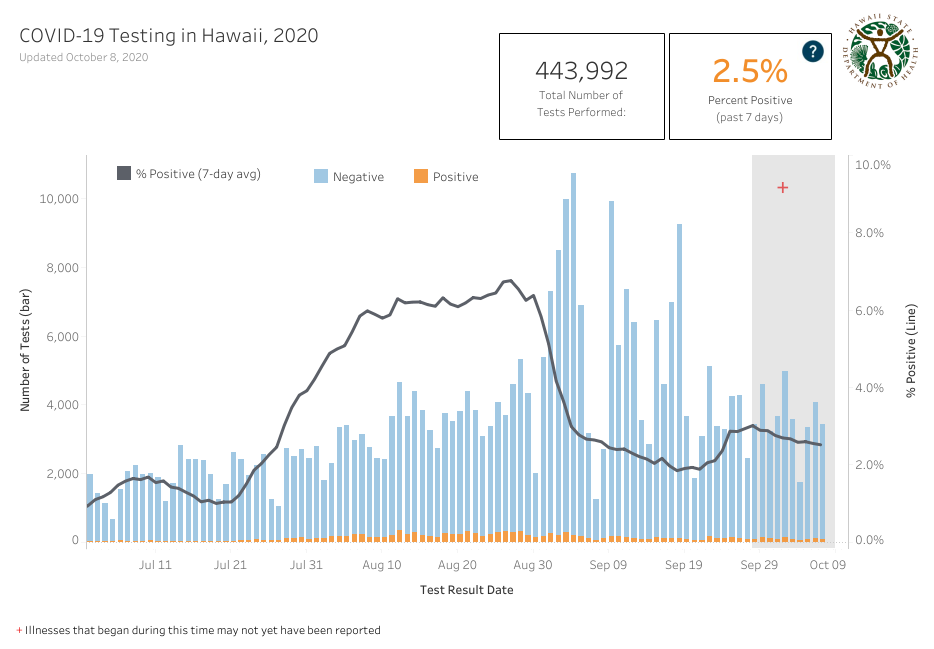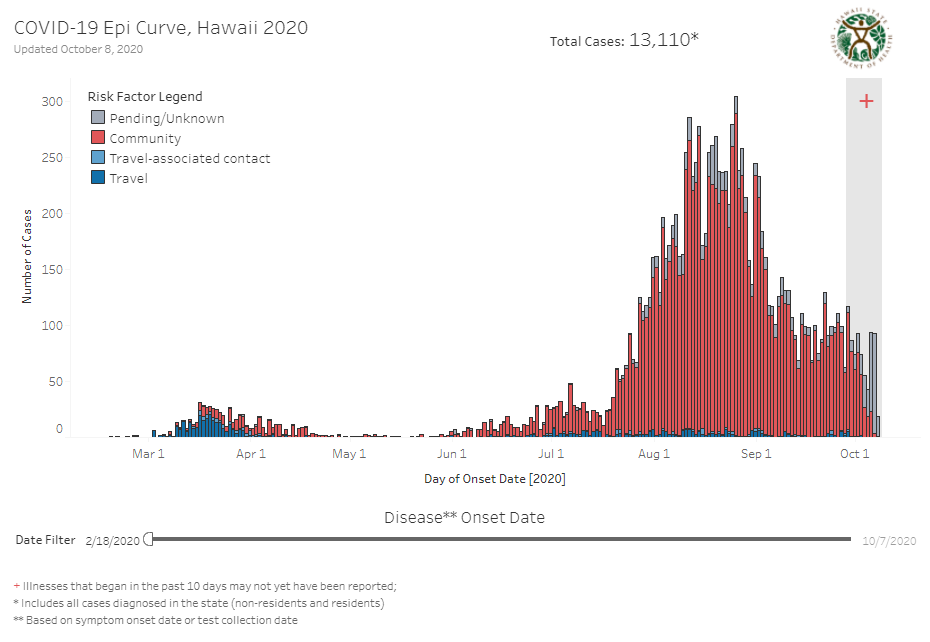 For more tables, charts and visualizations visit the DOH Disease Outbreak Control Division: https://health.hawaii.gov/coronavirusdisease2019/what-you-should-know/current-situation-in-hawaii 
---
Hawaiʻi State Judiciary:
Oʻahu Judiciary Employee Tests Positive for COVID-19
An employee at the First Circuit Driver's Education office has tested positive for COVID-19. The Hawaiʻi State Judiciary made the announcement on Wednesday. The employee was last in the office on Sept. 25, when symptoms began, and received a positive test result on Oct. 3. The Driver's Education office is located across the street from Honolulu District Court and the individual does not work with the public. After conferring with DOH, any coworkers with close prolonged contact were notified, advised to self-quarantine, and seek guidance from their medical providers. They will return to work when medically appropriate to do so. The office has already been disinfected. To view more:
https://www.courts.state.hi.us/news_and_reports/2020/10/oahu-judiciary-employee-tests-positive-for-covid-19
---
Department of Labor and Industrial Relations: 
DLIR Tweaking Virtual Call Center After Robocalls Flood Phonelines  
DLIR's new virtual call center has gotten over 150,000 calls daily since opening last week. The department and its vendor determined that a majority of those calls were robocalls that initially flooded the center and made it very hard for normal callers, but the contractor has implemented solutions to prevent this. Claimants can now wait in queue and get through to an agent. Director Anne Eustaquio said, "We're starting to see a large number of claimants file for the Pandemic Emergency Unemployment Compensation, or PEUC, the 13-week extension, as more claimants exhaust their twenty-six weeks of regular unemployment insurance benefits. The biggest challenge we have now involves claimants not answering phone calls from unemployment insurance staff due to phone network services identifying the calls as spam or telemarketers."
The manual PEUC claim application process takes twenty-one days to complete just as when a new claim is filed. The DLIR believes that many claimants are answering the questions incorrectly and has posted information at the following links to help:  
https://labor.hawaii.gov/wp-content/uploads/2020/08/PEUC-How-to-Apply-.pdf 
https://twitter.com/HI_DLIR/status/1313929573239648256.  
---
Department of Public Safety:
Mass Testing Update
PSD's Health Care Division is working with DOH, the Hawaiʻi National Guard (HING) and community partners, to conduct mass testing for COVID-19 at all correctional facilities statewide. Multiple facilities are conducting staff testing with the help of HING. The Maui Community Correctional Center (MCCC) received 21 more staff results which were all negative – bringing their total to 70 negative staff results. The Halawa Correctional Facility also received 10 additional staff results that were all negative. 
All 19 O'ahu Community Correctional Center (OCCC) inmate results received through continuous DOH testing today were negative. There are no inmates hospitalized. The number of inmates who have recovered jumped to 343. Of the 14 OCCC staff results received, one (1) was positive and 13 were negative. The number of PSD staff who have recovered and returned to work increased to 98. To view more on PSD's planning and response efforts to COVID-19:  
http://dps.hawaii.gov/blog/2020/03/17/coronavirus-covid-19-information-and-resources/ 
Helpful Resources 
Safe Travels Information (Frequently Asked Questions)
https://hawaiicovid19.com/travel/#travel-FAQs
Trans-Pacific Passenger Arrivals Statistics
https://www.hawaiitourismauthority.org/covid-19-updates/trans-pacific-passenger-arrivals

Kaua'i County
Kaua'i COVID-19 webpage: https://www.kauai.gov/COVID-19
To report violators: https://www.kauai.gov/KPD-Online-Reporting

Maui County
Maui County mandatory travel declaration form and request for limited quarantine form: 
https://www.mauicounty.gov 
To report violators: (808) 244-6400 or [email protected]  
Hawai'i County
Hawai'i County COVID-19 webpage:
https://coronavirus-response-county-of-hawaii-hawaiicountygis.hub.arcgis.com/
Critical infrastructure and medical travel request: https://survey123.arcgis.com/share/e2f4ce19aa854964a8fd60bec7fbe78c 
To report violators: 808-935-3311 
City & County of Honolulu 
Honolulu COVID-19 webpage: oneoahu.org 
Interisland passengers arriving on O'ahu are not subject to the mandatory quarantine.  
To report violators:808-723-3900 or [email protected] 
# # #