Hawai'i COVID-19 Daily News Digest March 19, 2021
Posted on Mar 19, 2021 in COVID-19
Department of Health: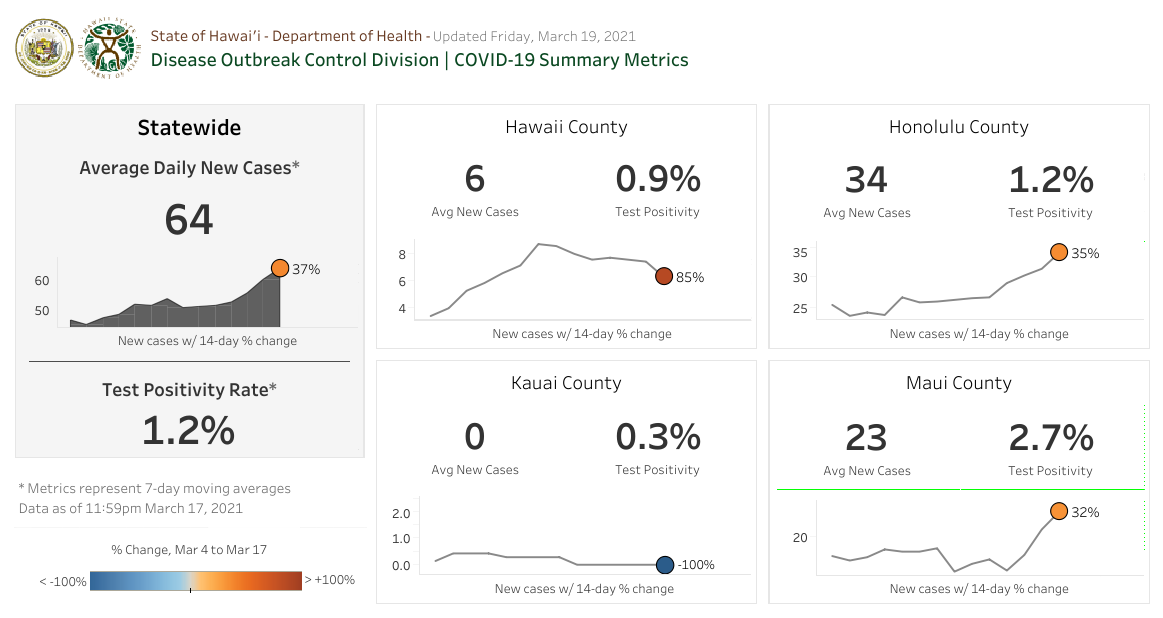 https://health.hawaii.gov/coronavirusdisease2019/what-you-should-know/current-situation-in-hawaii/
Daily and Weekly Preliminary Vaccine Administration Updates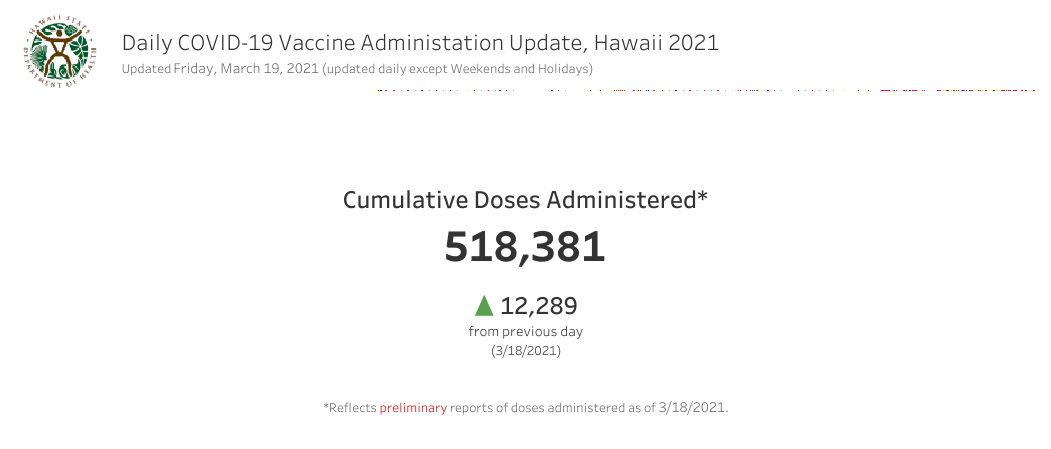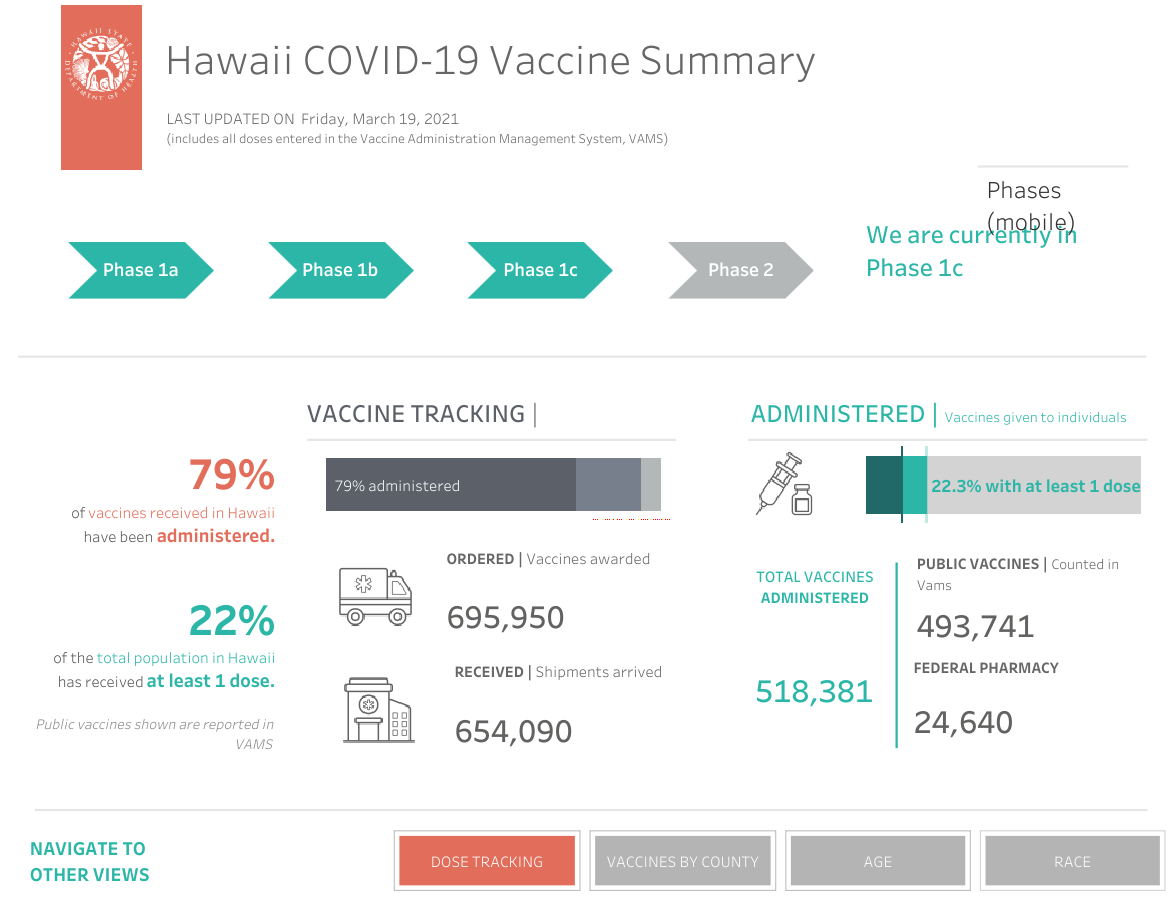 99 New COVID-19 Cases, One Death Reported
DOH reports 99 new cases of coronavirus today. An additional death was also reported, involving a man between 50-59 years old, who had underlying conditions and was hospitalized at the time of his death.
This report includes cases up until Wednesday at 11:59 p.m. Full data is posted on the State COVID-19 dashboard and on the DOH Disease Outbreak & Control Division website daily: hawaiicovid19.com/dashboard.
Hawai'i COVID-19 Counts as of 11:59 p.m. March 17, 2021   
Island of Diagnosis          

New Cases

Reported since

2/28/2020

(including new cases)

O'ahu          

49

22,468

Hawai'i          

7

2,361

Maui         

37

2,564

Kaua'i         

0

186

Moloka'i          

0

30

Lānaʻi      

0

109

HI residents diagnosed outside of HI         

6

890

Total Cases          

99

28,608

Deaths          

1

452
Hospitalizations as of 8:30 a.m. on 3/19/21 – Hawai'i-1, Maui 12, O'ahu-12, Kauaʻi-0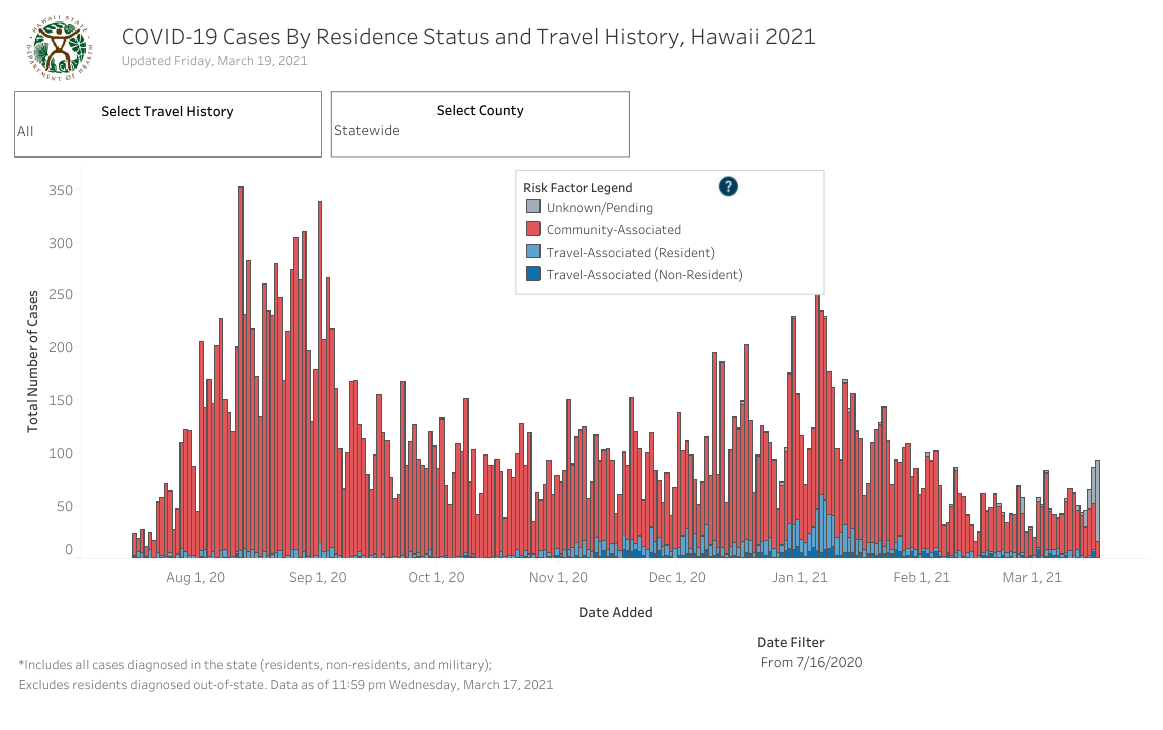 Free Rapid COVID-19 Testing at UH West O'ahu Tomorrow
Free COVID-19 testing is available tomorrow. DOH and UH West O'ahu partnered up to offer a total of 300 tests today and tomorrow at its campus in Kapolei. The appointments run between 9 a.m. and 2 p.m. You'll be able to get your results on-site. Free parking is also available. To request an appointment, call 917-387-1416. To view more: https://hawaiicovid19.com/free-rapid-covid-19-testing-at-uh-west-oahu-march-19-20/
Department of Public Safety:
Statewide Inmate Testing Continues   
COVID-19 testing is continuously being conducted statewide at all facilities. The Maui Community Correctional Center (MCCC) reports 18 inmate test results. Of that number, two (2) were positive and 16 were negative. The total active positive inmate cases stand at 14 and the total number of recovered inmates is 74. There were also 14 negative staff results reported. No MCCC inmates have required hospitalization due to COVID-19. Although all other facility inmate populations are clear of the virus, mass testing continues with DOH assistance. The O'ahu Community Correctional Center reported 20 negative inmate results. For more information on PSD's planning and response efforts to COVID-19:
https://dps.hawaii.gov/blog/2020/03/17/coronavirus-covid-19-information-and-resources/.   
Department of Accounting and General Services:
2021 King Kamehameha Celebration Events Canceled   
The King Kamehameha Celebration Commission announced it was canceling the King Kamehameha Celebration parade events statewide due to the ongoing pandemic. The Lei draping may still be held in a private format if regulations permit. A socially distanced Ho'olaule'a on O'ahu, is still being considered for the June 11 holiday.
"The decision to cancel these major, statewide events was made with the health and safety of our island communities and kūpuna in mind, said Kainoa Daines, chair of the King Kamehameha Celebration Commission. "While we are hopeful that the worst of the COVID-19 health crisis will be behind us by June, we feel the prudent response at this time is to cancel the parades as the preparations and event draw large crowds to prepare and attend. This allows all involved in our respective King Kamehameha celebration festivities across the state to focus on matters important to health, welfare, and economy. We look forward to a return to in-person festivities commemorating and celebrating Kamehameha Pai'ea in 2022." To view more: www.ags.hawaii.gov/kamehameha
Hawaiʻi Tourism Authority:
19,516 Passengers Arrive on Thursday
Yesterday, a total of 19,516 people arrived in Hawai'i from out of state. A total 13,281 people indicated they came to Hawai'i for vacation. There were also 1,569 returning residents. The trans-Pacific passenger arrival data is derived from data provided by the Safe Travels digital system.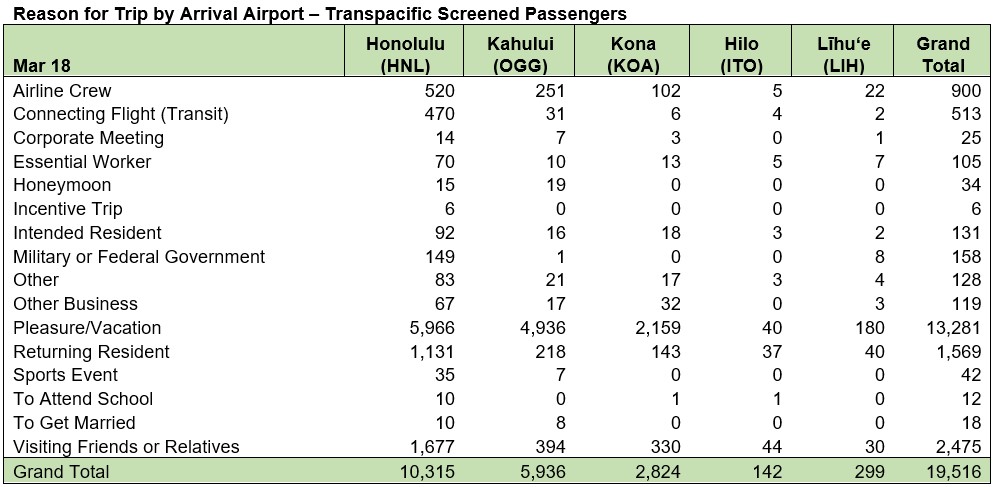 To view more: https://www.hawaiitourismauthority.org/covid-19-updates/trans-pacific-passenger-arrivals/
Helpful Resources
Trusted Testing and Travel Partners:
The state of Hawai'i only accepts Nucleic Acid Amplification Test (NAAT) from a certified Clinical Laboratory Improvement Amendment (CLIA) lab test results from Trusted Testing and Travel Partners. For the full list of domestic trans-Pacific, inter-county, international and airline partners or information on how to become a Trusted Testing Partner, go to:
https://hawaiicovid19.com/travel-partners/
Safe Travels Hawai'i Program:
Program overview: https://hawaiicovid19.com/travel/ 
FAQs: https://hawaiicovid19.com/travel/faqs/
Email: [email protected] 
Call Center Number: 1-800-GO-HAWAII 
COVID-19 Vaccine Status in Hawai'i and FAQs:
https://hawaiicovid19.com/vaccine/
Vaccine Call Center: 808-586-8332  
COVID-19 Expanded Dashboard (Tables, Charts, and Visualizations):
https://hawaiicovid19.com/data-dashboard/
Safe Travels Digital Platform:
https://hawaiicovid19.com/travel/data/


Kaua'i County:
Kaua'i COVID-19 webpage: https://www.kauai.gov/COVID-19
To report violators: https://www.kauai.gov/KPD-Online-Reporting
Vaccine Information: https://www.kauai.gov/vaccine
Maui County:
Maui County travel and COVID-19 information:
https://www.mauicounty.gov  
To report violators: (808) 244-6400 or [email protected]   
Hawai'i County:
Hawai'i County COVID-19 webpage:
https://coronavirus-response-county-of-hawaii-hawaiicountygis.hub.arcgis.com/pages/travel 
Critical infrastructure and medical travel request: https://survey123.arcgis.com/share/e2f4ce19aa854964a8fd60bec7fbe78c 
To report violators: 808-935-3311 
City & County of Honolulu: 
Honolulu COVID-19 webpage: oneoahu.org 
COVID-19 Vaccine Information: https://www.oneoahu.org/vaccine
# # #