Hawaii COVID-19 Daily News Digest April 24, 2020
Posted on Apr 24, 2020 in COVID-19
Governor's Office:
Every COVID-19 Death is a Great Loss to Hawai'i
"Dawn and I join all of Hawai'i in expressing our sincere condolences to the family and friends of two men, whose deaths were reported today, " said Gov. Ige. "While the death rate from coronavirus in Hawai'i is among the lowest in the nation, the tragic passing of these men emphasizes the need for social distancing, staying home when sick, washing hands and other measures to protect everyone and prevent serious illness, hospitalizations, and deaths."
Department of Health:
Two Additional Deaths and Five New Cases Reported Today
DOH is reporting the 13th and 14th deaths associated with COVID-19 in the state. One is an O'ahu man who had been hospitalized since the beginning of April, was over 65-years-old, and had underlying medical conditions. He had a history of travel to Las Vegas in March. The other is also an O'ahu man, over 65-years-old, who'd also been hospitalized recently and also had underlying health conditions. His infection was the result of community-associated spread. There are five (5) new cases of coronavirus being reported today; three (3) on O'ahu, and one (1) each on Hawai'i island and Maui. Hawaiicovid19.com
Hawai'i COVID-19 Counts as of 12:00 noon, April 24, 2020
Island of Diagnosis

New Cases

Reported since

2/28/2020

(including new cases)

Total Released from Isolation

O'ahu

3

392

339

Hawai'i

1

69

40

Maui

1

111

65

Kaua'i

0

21

19

Moloka'i

0

2

0

Lana'i

0

0

0

Residents Diagnosed outside HI

0

6

 

Unknown**

0

0

 

Total

5

601

 

Total released from isolation

 

 

455

Deaths

2

14

 
 ** Refers to positive cases that have an unknown county of diagnosis at the time of this report. As more information becomes available for these cases, they are assigned to the proper County of Diagnosis. A negative number indicates the number of previously unknown cases that have now been assigned to a county.
Laboratory* Testing Data
| | | |
| --- | --- | --- |
| Total Number of Individuals Tested by Clinical and State Laboratories | Positive | Negative |
| 27,152 | 599 | 26,536 |
*Electronic Laboratory Reporting 17 test results were inconclusive.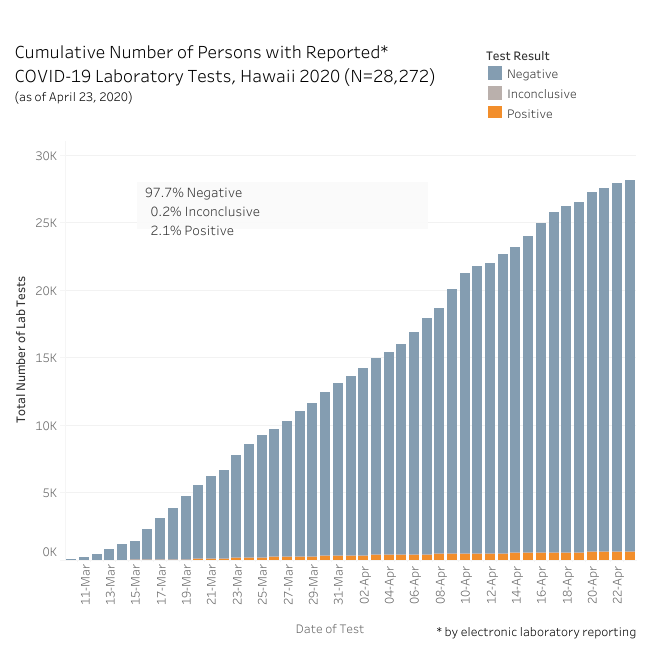 For more tables please visit: https://health.hawaii.gov/docd/
Medical Reserve Corps Volunteers
It's been nearly a week and a half since the Hawai'i Healthcare Association (HAH) and DOH put out a call for volunteer medical professionals to join the Hawai'i Medical Reserve Corps (MRC). Since then, HAH has recruited 226 people. The volunteers, who are not currently working in clinical roles, are sought in case of a potential surge in COVID-19 patients. Non-medical volunteers are also needed. To access the registry and sign up:
---
Department of Labor and Industrial Relations:
State Pays Out $68,097,470 in Unemployment Insurance Benefits
DLIR announces that between April 17-23 it distributed $68,097,470 in unemployment insurance benefits. $44,848,600 of that total includes the $600-a-week bonus made available by the Coronavirus Aid, Relief, and Economic Security (CARES) Act signed into law on March 27th. DLIR Director Scott Murakami said, "The department was able to deliver a record level of benefits in a week and for that I am tremendously grateful for our workers. We know that there are still many in our community who are suffering and with the help of our sister departments, the Legislature, private sector partners and non-profits, we are resolute in providing a greater level of relief as soon as possible."
https://labor.hawaii.gov/blog/news/state-pays-out-68097470-in-unemployment-insurance-benefits/
---
Department of Transportation:
Improved Verification Process Implemented for Airline Passengers
DOT has implemented improved measures to verify incoming passenger information before they leave the airport to help ensure people are abiding by the travel quarantine order. The enhanced process is underway at the Daniel K. Inouye International Airport (HNL) and will begin statewide in the coming days.
Hawai'i was the first state in the country to implement a travel order and the process is evolving and improving every day. Arriving passengers on trans-Pacific flights will continue to fill out the Department of Agriculture declaration form. After landing they will have their temperatures taken by members of the Hawai'i National Guard. Anyone with a high temperature will receive a medical assessment by paramedics stationed at the airport. There are numerous additional steps for both visitors and returning residents to ensure compliance with the traveler quarantine. Read the full DOT news release for more details, here:
https://hidot.hawaii.gov/blog/2020/04/24/improved-verification-process-implemented-for-airline-passengers/
---
Hawai'i Tourism Authority:
438 Passengers Arrive on Thursday
Yesterday, 438 passengers arrived in Hawai'i, including 83 visitors and 182 residents. Yesterday marked one month since the state's mandatory 14-day self-quarantine started for all passengers arriving in Hawai'i from out of state. This table shows the breakdown of incoming flights to the state. The table below in DBEDT's section includes interisland travel.
AIRPORT ARRIVALS FOR THURSDAY, APRIL 23, 2020
| | | | | | |
| --- | --- | --- | --- | --- | --- |
|   | Kona | Maui | O'ahu | Lānaʻi | Total |
| Crew | 6 |   | 86 |   | 92 |
| Intended New Resident | 7 |   | 33 |   | 40 |
| Resident | 12 |   | 170 |   | 182 |
| Transit |   |   | 41 |   | 41 |
| Visitor | 4 |   | 79 |   | 83 |
| Grand Total | 29 | 0 | 409 | 0 | 438 |
| Flights | 1 | 0 | 12 | 0 | 13 |
https://www.hawaiitourismauthority.org/media/4464/042420-passenger-count-press-release.pdf
---
Department of Business, Economic Development and Tourism
DBEDT is reporting the following interisland passenger numbers for Hawai'i airports for April 20, 2020.
Arriving Airport
Departing Airport

HNL

KOA

ITO

OGG

LIH

MMK

LNY

JHM

MUE*

Total

Departing

Honolulu (HNL)

0

70

58

98

49

17

1

0

0

293

Kona (KOA)

94

0

0

0

0

0

0

0

0

94

Hilo (ITO)

106

0

0

0

0

0

0

0

0

106

Kahului (OGG)

60

7

0

0

0

0

2

0

0

69

Līhuʻe (LIH)

55

0

0

0

0

0

0

0

0

55

Molokaʻi

16

0

0

13

0

0

0

0

0

29

Lanaʻi (LYN)

5

0

0

2

0

0

0

0

0

7

Kapalua

0

0

0

0

0

0

0

0

0

0

Waimea

0

0

0

0

0

0

0

0

0

0

Total Arriving

336

77

58

113

49

17

3

0

0

653
https://dbedt.hawaii.gov/economic/covid19/
---
Department of Defense:
Free Keiki Meals Being Offered This Weekend
Free bentos for anyone 18 and under are being offered Saturday by the Hawai'i Army National Guard Recruiting and Retention Battalion. The Grab N' Go lunches are similar to what the DOE offers Monday-Friday, and the meals will be purchased from a locally-owned small business. The event runs from 11:30 AM to 12:30 PM at Farrington High School. Students must be present, and it's first come, first served. To pre-register to receive a meal:
https://s.surveyplanet.com/i3sGWORdC
---
Department of Public Safety:
Hawai'i Paroling Authority Update
From May 4-8 the Hawai'i Paroling Authority (HPA) will resume regular hearings to determine minimum terms. Parole violation hearings will be held on May 6. Prior to the COVID crisis HPA identified 88 individuals pending a parole date set by the HPA Board. To date, HPA has released 57 of those initial 88 cases with 31 cases pending verifications of residence and outside programming. There are also 71 new cases under review based on the considerations outlined in the Hawai'i Supreme Court's order. HPA is also assessing community custody and minimum custody populations across the state, populations with pre-existing conditions as well as elderly inmates, as submitted by the Department of Public Safety to HPA for parole consideration. https://dps.hawaii.gov/hpa/
Jail Population Report
From March 2 through April 24 there has been a 716-person decrease in the state's jail population. This is largely due to efforts made by the State Judiciary, county police departments and PSD's Intake Service Division as they work together to limit the number of people requiring admittance into jails. All decreases were pursuant to independently issued court orders.
https://dps.hawaii.gov/blog/2020/03/17/coronavirus-covid-19-information-and-resources/
PSD Purchase of PPE
Public Safety keeps a regular supply of personal protective equipment (PPE) for normal circumstances, but like all healthcare workers and first responders, its supply has been depleting quickly. To get ahead of the need, PSD submitted a large order for extra PPE which was received this week and is in the process of distributing to correctional facilities across the state. The order includes 14,000 cloth face coverings.
Inmates in the sewing program at the Waiawa Correctional Facility, Kulani Correctional Facility, and Hawai'i Community Correctional Center are also producing as many as 4,000 masks a day. Hawai'i Correctional Industries helped supply the fabric, sewing supplies, and sewing machines for the inmates. They're expected to produce over 300,000 masks by the end of June. Hawaii Correctional Industries can be reached at 808-677-6638 or by email at [email protected]
---
Hawai'i State Senate:
Senate Special Committee on COVID-19 Meets 
The Special Committee reconvened today to assess and advise the Senate regarding the State of Hawai'i's COVID-19 plans and procedures for state departments, as well as review and assess the management of federal aid packages. The committee met with Attorney General Clare Connors, Department of Transportation Deputy Director Ross Higashi, Hawai'i Tourism Authority CEO Chris Tatum, Department of Health Director Dr. Bruce Anderson and State Epidemiologist Dr. Sarah Park, as well as Hawai'i Economic and Community Recovery and Resiliency Navigator Alan Oshima.
# # #