Hawaii COVID-19 Daily News Digest April 22, 2020
Posted on Apr 22, 2020 in COVID-19
Department of Health:
Six Additional COVID-19 Cases Reported
The City and County of Honolulu has three (3) additional coronavirus cases and Hawai'i County has three (3) new cases in the latest report from the Dept. of Health. Five of the cases are adults and one is a minor.
Laboratory* Testing Data
| | | |
| --- | --- | --- |
| Total Number of Individuals Tested by Clinical and State Laboratories | Positive | Negative |
| 25,909 | 591 | 25,291 |
*Electronic Laboratory Reporting 27 test results were inconclusive.
Hawai'i COVID-19 Counts as of 12:00 noon, April 22, 2020
Island of Diagnosis

New Cases

Reported since

2/28/2020

(including new cases)

Total Released from Isolation

O'ahu

3

388

328

Hawai'i

3

67

38

Maui

0

108

60

Kaua'i

0

21

18

Moloka'i

0

2

0

Lana'i

0

0

0

Residents Diagnosed outside HI

0

6

 

Unknown**

0

0

 

Total

6

592

 

Total released from isolation

 

 

444

Deaths

0

12

 
 ** Refers to positive cases that have an unknown county of diagnosis at the time of this report. As more information becomes available for these cases, they are assigned to the proper County of Diagnosis. A negative number indicates the number of previously unknown cases that have now been assigned to a county.
Cluster Updates
DOH continues to investigate and monitor several clusters of COVID-19. No change in case numbers at Maui Memorial Medical Center. No new cases at McDonald's restaurants at Kailua-Kona on Hawai'i island. Tests on a healthcare worker at Hale Makua on Maui came back negative and monitoring is continuing after there was one confirmed positive COVID-19 case.
Volunteers Assist Assembling PPE for Front-Line Health Workers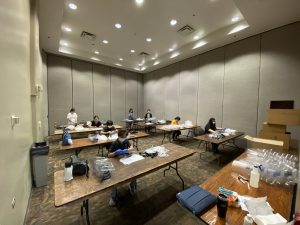 For a second time this month, volunteers from across O'ahu gathered at the Neil Blaisdell Center to assemble personal protective equipment (PPE) that will be provided to front-line health workers. Yesterday more than 150 volunteers answered the call and worked in different shifts in 11 rooms properly spaced apart to follow social distancing protocols. The PPE was purchased by DOH and arrived earlier this month, unassembled. The organizations that sent volunteers include: DOH, Hawaii Children's Action Network, Caring for Hawai'i's Neonate's, HI COVID-19 Task Force, Riveters Union, Young Democrats, Hawai'i Medical Reserve Corps, Faith Action, US Coast Guard, and ILWU. Several other individuals also participated.
---
Department of the Attorney General:
Continued Collaboration to Enforce Self-Quarantine Rule for those Entering State
This week, four individuals have been arrested on O'ahu for violating the State's mandatory, 14-day, self-quarantine orders for everyone flying into Hawai'i. An Australian man and a Las Vegas woman were arrested by special agents from the Department of the Attorney General yesterday, after their hotel received complaints that they'd been outdoors repeatedly during the five days since they first arrived on O'ahu. Also, yesterday Honolulu Police Department officers arrested a California man and a woman in A'ala Park for violating the emergency rules. They'd allegedly violated the self-quarantine rules for an entire week. Anyone arriving in Hawai'i from out of state goes through a mandatory screening process, including filling out an Order for Self-Quarantine form. Depending on the island, processing of these forms is handled by the Department of Transportation and/or the Hawai'i Tourism Authority. Accommodations for visitors are verified by contacting hotels directly and giving them a heads up that a visitor is headed their way. Visitors and returning residents are then contacted numerous times to verify that they are staying in their place of lodging or at home. Call center workers, mostly from the Hawai'i Visitors and Convention Bureau and HTA have made 11,000 calls since the quarantine rules took effect on March 26.  When call center workers fail to contact someone, they alert law enforcement.
In some cases, violators leave the state to lessen the resource burden on law enforcement authorities. In others, they are ordered to return to their lodging and to stay put until they've completed their 14-day-long self-quarantine period.
---
Hawai'i Tourism Authority:
488 Passengers Arrive on Tuesday
Yesterday, 488 passengers arrived in Hawai'i, including 139 visitors and 171 residents. The state's mandatory 14-day self-quarantine started on March 26 for all passengers arriving in Hawai'i from out of state. This table shows the number of people who arrived by air from out of state yesterday. The next table shows interisland travel as of Apr. 19, 2020.
AIRPORT ARRIVALS FOR TUESDAY, APRIL 21, 2020
| | | | | | |
| --- | --- | --- | --- | --- | --- |
|   | Kona  | Maui  | O'ahu  | Līhu'e   | Total  |
| Crew  | 6 | 6 | 94 | 2 | 108 |
| Intended New Resident  | 13 |   | 38 |   | 51 |
| Resident  | 16 | 15 | 140 |   | 171 |
| Transit  |   |   | 19 |   | 19 |
| Visitor  | 18 | 10 | 111 |   | 139 |
| Grand Total  | 53 | 31 | 402 | 2 | 488 |
| Flights  | 1 | 1 | 12 | 1 | 15 |
https://www.hawaiitourismauthority.org/media/4457/042220-passenger-count-press-release.pdf
---
Department of Business, Economic Development and Tourism:
DBEDT is reporting the following interisland passenger numbers for Hawai'i airports for April 19, 2020.
Arriving Airport
Departing Airport

HNL

KOA

ITO

OGG

LIH

MKK

LNY

Total

Departing

Honolulu (HNL)

0

25

22

82

30

8

2

169

Kona (KOA)

79

0

0

14

0

0

0

93

Hilo (ITO)

49

0

0

0

0

0

0

49

Kahului (OGG)

77

4

0

0

0

1

0

82

Līhuʻe (LIH)

26

0

0

0

0

0

0

26

Moloka'i (MKK)

0

0

0

7

0

0

0

7

Total Arriving

231

29

22

103

30

9

2

426
https://dbedt.hawaii.gov/economic/covid19/
---
Department of Public Safety:
Sheriff Impersonators, COVID-19 Phone Text Scam Alert
A recent impersonator scam has prompted the Department of Public Safety Sheriff Division to put out a warning. On Monday, an individual said he was contacted through text by someone claiming to be a "Sergeant Anderson" with the Sheriff Division Internet Crimes Task Force. The impersonator said the man would be arrested for inappropriate internet use unless he paid an undisclosed amount of money. The individual immediately alerted authorities. PSD is reminding everyone that Sheriffs do not call, text, or email people asking for personal information or to solicit payment electronically or by phone. If you receive a call matching this scam, please alert the Sheriff Division by calling 586-1352.
The FBI recently put out a warning about an increase in similar online extortion scams during the COVID-19 crisis. They've given these tips to protect yourself:
Do not open e-mails or attachments from unknown individuals
Do not communicate with unsolicited e-mail senders
Do not store sensitive or embarrassing photos or information online or on your mobile devices
Use strong passwords and do not use the same password for multiple websites
Never provide personal information of any sort via e-mail. Be aware that many e-mails requesting your personal information appear to be legitimate
Ensure security settings for social media accounts are activated and set at the highest level of protection

---
Department of Agriculture:
COVID-19 Emergency Farmer Relief Checks Being Mailed
The Hawai'i Department of Agriculture (DOA) is mailing out the first batch of checks under the COVID-19 Emergency Farmer Relief Program Wednesday. DOA received 333 applications for the grants and was able to award 106 proposals that ranged from $2,000 for individual farmers and ranchers and up to $10,000 for non-profit organizations, commodity groups, and agricultural associations that have experienced financial damage due to the COVID-19 emergency. The total funding for the program was $250,000 which was drawn from the State's barrel tax fund (Agriculture Development and Food Security Special Fund) and made available through Gov. Ige's March 4 emergency proclamation. The Ulupono Foundation contributed an additional $20,000 to specifically assist local pork producers with feed costs, as they can no longer rely on food scraps from closed restaurants. Hawaiʻi Board of Agriculture Chairperson Phyllis Shimabukuro-Geiser said, "The department was able to fast-track the review and fiscal processing in order to get the funds to farmers, ranchers and agricultural operations as soon as possible. It was critical that we get these checks to them quickly to help ease some of their urgent financial burdens and keep them in business until they can adjust to the changing marketplace or until more assistance programs become established."
---
Hawai'i House of Representatives:
"Talk Story with House Majority" Debuts
"Talk Story with House Majority," a weekly news and information program made its debut Wednesday on 'Ōlelo Community Media. The 30-minute program is hosted by House Majority Leader Della Au Belatti and features live interviews with state officials and community leaders doing critical work in the community during the COVID-19 pandemic. Her first featured interview was with Brig. Gen. Moses Kaoiwi Jr., the Joint Task Force Commander of the Hawaiʻi National Guard (HING). The HING has been assisting with temperature screenings at airports across the state as well as conducting other missions to support the various counties. About 1,200 Hawai'i National Guardsmen have been activated to assist with the State's COVID-19 response. The show also did a community spotlight on the Domestic Violence Action Center, followed by interviews with Rep. Gregg Takayama and Stacelynn Eli. The new program will air every Wednesday at noon on Ōlelo channel 49. You can also view it on Facebook:
https://www.facebook.com/olelocommunity
Maui Legislators Encourage Residents to Use State Support Programs
With many families having lost their jobs and sources of income due to the coronavirus pandemic, Maui legislators are encouraging everyone to apply for important state benefits, such as: unemployment insurance, Supplemental Nutrition Assistance Program (SNAP), Temporary Aid to Needy Families (TANF), medical insurance, and childcare support. The Maui Legislative Delegation says these forms of assistance allow families the economic, healthcare, and food-support to remain at home until they are able to return to work when the state can safely reopen. 
# # #