Youth Leaders Empowered at 2016 Hawaii Children and Youth Summit
JoB Balberde-Kamalii, Deb Goebert and Mara J. Pike, YLC Planning Team and Supportive Adults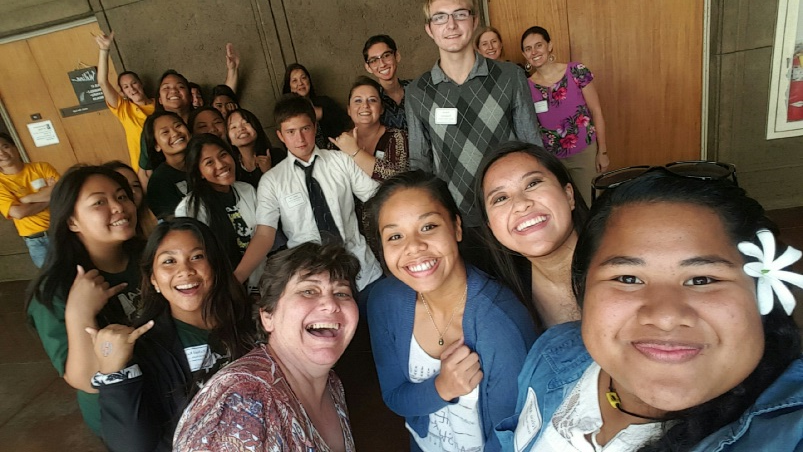 The Youth Leadership Council (YLC) established in 2015 is an important voice for youth at the annual Children and Youth Summit. The statewide YLC provides an opportunity to inform statewide suicide prevention work, maintain a sustainable and effective network, and foster youth leadership development and engagement in civic and community service opportunities. Participants assisted the Hawaii State Legislature's Keiki Caucus in identifying key children and youth issues needing to be addressed in future Legislative sessions. Breakout sessions for youth were facilitated by youth and focused on health and human services, education, civil rights, the environment and sustainability. In addition to the array of breakout sessions, community leaders, business professionals and youth provided rich and diverse panel discussions.
This year, YLC members presented on suicide prevention at the Health and Human Services breakout session and made an impact on adult attendees. Reitchel Leigh Acio (O`ahu), Taylor Fujimoto (O`ahu), Melanie Habon (O`ahu), Shelby Lyn Lopez (O`ahu), Mary Faith Martin (O`ahu), Trevor Passmore (Kaua`i), Richael Ramos (O`ahu) Princess Fatima Rasalan (Hawai`i), Shellavhon Tehada (O`ahu), and Amanda Rae Valiente (O`ahu) discussed strategies to improve mental health among youth and reduce suicide.  They reported being excited to participate in the process and hopeful about the potential impact they are making. Comments from adult attendees included "it was the best presentation of the morning," "they did an awesome job," "I learned a lot from the presentation—I got so many wrong," and "I think we should encourage more youth to talk about suicide and teach others."
YLC members Reitchel Leigh Acio (O`ahu), Taylor Fujimoto (O`ahu), Melanie Habon (O`ahu), Felicia Andrew (Hawai`i), Danica Ola (Kaua`i), James Kelley Kaaumoana-Matsumoto (Hawai`i), Jaden Liu (Moloka`i), and Jacqueline Yuw (Hawai`i) presented '8 myths and 2 facts about suicide' and facilitated activities on safe messaging. They prepared for the presentation with email support, individual practice sessions, and met with each other the morning of the event. Prior to the sessions, many YLC members had not met one another in person, and some hadn't seen each other in over 2 years.
The top policy priorities identified in the breakout groups, and the number of votes are reported in the table below.  Mental health, which includes suicide prevention efforts, was identified as the top priority among both youth and adults.  This priority addresses the need for youth to engage other youth as well as to expand the role of supportive adults like parents, teachers, and counselors through training. The youth leaders will be presenting their activities in their schools and communities as well as tracking the progression of their ideas for legislation. The supportive adults are committed to attending every year with their youth and were impressed with the process.
The council and planning committee thank Mental Health America of Hawai`i; the University of Hawai`i School of Medicine, Department of Psychiatry; and the Hawaii State Department of Health Emergency Medical Services & Injury Prevention Systems Branch for their ongoing support of their activities.
Youth
Adult
Overall
Mental Health (support groups, train counselors and teachers to reach out to students, peer mentoring programs, parental awareness) (25 votes)

Ensuring and raising equality for all disabled people in work, school, recreational, and public areas (22 votes)

Ensuring equal pay, freedom of choice, the safety and education of all women (22 votes)

Teach real life education skills (21 votes)

Recycling/reusing plastic bags and goods (21 votes)

Mental Health (support groups, train counselors and teachers to reach out to students, peer mentoring programs, parental awareness) (27 votes)

Teach real life education skills (24 votes)

Support for after-school programs (with funds, resources, linkages to schools) (19 votes)

Support sex abuse prevention education (16 votes)

Universal pre-school for all children (13 votes)

Mental Health (support groups, train counselors and teachers to reach out to students, peer mentoring programs, parental awareness) (52 votes)

Teach real life education skills (45 votes)

Ensuring and raising equality for all disabled people in work, school, recreational, and public areas (29 votes)

Bullying prevention and intervention (28 votes)

Support sex abuse prevention education (28 votes)