Storytelling: A Journey in Injury Prevention
[facebook]
Within the public health field sit formidable injury issues as well as strategies we utilize to prevent the outcome of death and disability. Storytelling is a powerful method of helping people effectively communicate important issues by describing the impact on their lives.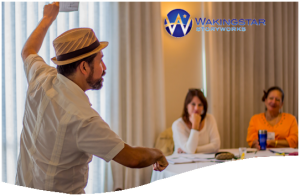 It's no secret that our policy makers really care about how injuries impact their constituents; our public health laws are shaped by the faces, names and personal stories of individuals who have suffered injuries. For this reason, on October 28th and 29th, 2014 the Hawaii State Department of Health (DOH), Injury Prevention and Control Section (IPCS), hosted an interactive storytelling workshop. The training, taught by Jay Golden – CEO of Wakingstar Storyworks, consisted of four groups, with four group members, focusing on injury prevention issues that included: Traffic Safety, Fall Prevention, Suicide Prevention and Drowning Prevention. Participants learned how to craft their personal or professional stories to effectively educate policymakers and the public. At the end of the workshop, with great contribution from Olelo, participants received the opportunity to record their injury story on video.
To evaluate the impact of this training, participants completed a pre and post evaluation with five self-reported domains (e.g., rate your ability to understand techniques, sensory details, and suspense). All five questions show statistically significant increases in the proportion of participants who self-reported their ability as "moderately high" or "high". None of the sixteen participants reported a decrease in their self-reported ability in any of the five storytelling questions.
The impact of this training doesn't suggest that storytelling is our only educational option. However, let's face the fact that our parents didn't put us to bed at night reading injury data. Knowing what truly resonates with our target audience is difficult and storytelling simply adds depth to our current tool chest of mixed methods. The media does a great job educating and telling these narratives, but injury prevention doesn't need another face in a suit. This time, we let those stories from those who have directly experienced or treated an injury speak.
Today, with feedback from the Injury Prevention Advisory Committee (IPAC), the IPCS is in the planning phase of elevating injury prevention issues in Hawaii by developing the online story bank "Voices of Injury Prevention". IPCS's newly emerging "Voices of Injury Prevention" website platform will provide visitors with a self-paced training guide, detailing storytelling techniques essential to ensuring their recorded injury story is dynamic and memorable.
Update (4/7/2016): visit the story bank: [button link="https://health.hawaii.gov/injuryprevention/story-bank/" newwindow="yes"] Voices of Injury Prevention[/button]
Nicholas Lee Hines, MPH
Hawaii Core VIPP Grant Coordinator