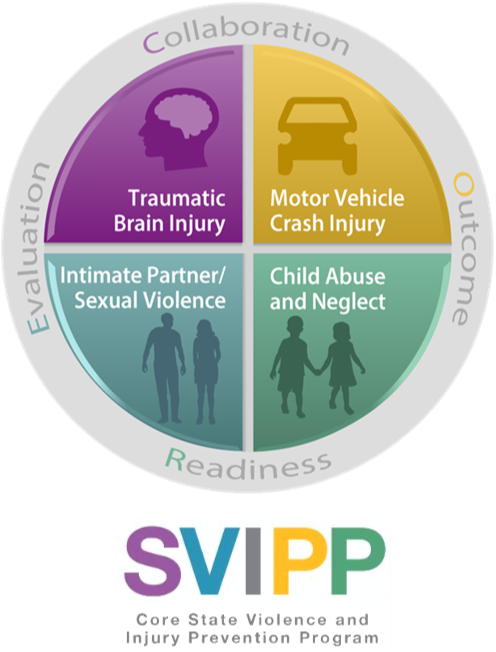 The Hawaii State Department of Health (DOH), Emergency Medical Services & Injury Prevention System Branch (EMSIPSB) received a total of $1.2 million for a five-year grant from the Centers for Disease Control and Prevention (CDC) National Center for Injury Prevention and Control (Injury Center) to address injury and violence in Hawaii.  Hawaii is one of 23 states receiving a portion of the $30 million CDC allocated for the Core State Violence and Injury Prevention Program (Core SVIPP). The funds support states in the  implementation, evaluation and dissemination of strategies to  address critical injury and violence issues such as child abuse and neglect; traumatic brain injury; motor vehicle crash-related injuries; and intimate partner/sexual violence. The program builds on the CDC's Core Violence and Injury Prevention Program (CE11-1101).
The Core SVIPP includes a Base Component and two optional enhanced components: the Surveillance Quality Improvement (SQI) and the Regional Network Coordinating Organization (RNCO) Components. States that received base funding include: Arizona, Colorado, Georgia, Hawaii, Illinois, Kentucky, Louisiana, Maryland, Massachusetts, Michigan, Minnesota, Nebraska, New York, North Carolina, Oklahoma, Ohio, Oregon, Rhode Island, Tennessee, Utah, Virginia, Washington and Wisconsin. Five of the 23 states received RNCO funding to coordinate across and between states (regardless of funding status) and collaborate with injury and violence prevention  (IVP) organizations to share scientific evidence and programmatic best practices. RNCO funded states are Colorado, Maryland, Massachusetts, North Carolina and Washington.
In addition to addressing critical injury and violence prevention areas, Core SVIPP funding for Hawaii will be used to improve data analysis and evaluation, and help Hawaii expand efforts to implement evidence-based programs and policies to reduce injuries and deaths as well as the considerable cost burden to society.
For more information on Hawaii, please see: https://health.hawaii.gov/injuryprevention/ or contact Therese Argoud, MPH, PI ([email protected]) or Nicholas Lee Hines MPH, Core SVIPP Grant Coordinator ([email protected])