Hawai'i Neurotrauma Registry Project
Posted on May 31, 2016 in All IPCS News
Hawaii Neurotrauma Registry Project
The Hawaii Neurotrauma R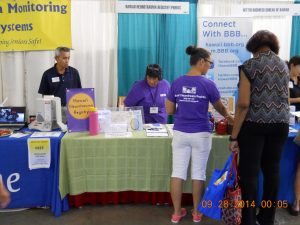 egistry Project (HNTR) recently entered its fourth year of work in the area of neurotrauma injuries (stroke, traumatic brain injury, spinal cord injury). HNTR is funded by the State of Hawaii Department of Health, Developmental Disabilities Division, Community Resources Branch and is administered by the Pacific Disabilities Center. The project's three main goals are: 1) enroll as many Hawaii residents of all ages with neurotrauma injuries into the Registry (which consists of taking a survey); 2) educate the public about neurotrauma injuries; and 3) provide an information and referral service for all residents with these injuries, regardless of whether they choose to take the survey or not.
The information collected fills a gap in knowledge. Through the State's excellent surveillance system, valuable information is gathered on neurotrauma injuries. The HNTR survey takes it a step further. It seeks to understand what happens when individuals leave the hospital or care facility. What challenges do they face? What are their needs? This information will allow the Department of Health to identify needed community supports and services, educate service providers, and develop safety and prevention plans and policies.
Currently there are approximately 150 unique individuals with neurotrauma injuries who have provided information by taking the survey. Since inception and through the end of March 2016, HNTR staff have attended 81 public events on Oahu, Maui, Kauai, and Hawaii. More than 13,500 people have visited HNTR displays at these events. Over 19,000 pieces of information on neurotrauma injuries have been distributed. To date we've given 45 presentations to community and professional groups on Oahu, Lanai, and Hawaii.
While one goal is to include as many Hawaii residents with neurotrauma injuries as possible, our focus this year is on increasing the number of younger persons and Neighbor Island residents who take the survey. Currently there are only a handful of individuals aged 20 years or younger who have participated, and fewer than 20 residents from Neighbor Islands. It is critical to have adequate representation from all ages and locations throughout the state. All information is confidential and will not be shared with anyone outside of a few key persons at the Pacific Disabilities Center and the Department of Health. It is not shared with employers, teachers, coaches, principals, or anyone not directly associated with the project.
Staff members and volunteers distribute information on neurotrauma injuries to the public at various events. This includes stroke and traumatic brain injury prevention and intervention for all ages, safe walking tips, concussion facts for athletes, preventing falls, keeping keiki safe while playing sports, Shaken Baby Syndrome, wise driving tips, spinal cord injury facts, and pages for keiki to color that emphasize safety. (We even provide the crayons.) In the past we have attended the ESPN 1420 Sports Festival, First Hawaiian Bank PrimeTime Wellness Fairs (all islands), Children's Mental Health Resource Fair, Annual Special Parent Information Network Conference, Oh Baby! Family Expo, American Heart Association Walk, Senior Fair/Good Life Expo, Honolulu Century Ride, National Night Out, Intergenerational Family Resource Fair, Maui 14th Annual Caregivers Conference, Children & Youth Day, and many other fairs, conferences, and events. HNTR staff also attend selected monthly meetings of the Stroke Club at Rehabilitation Hospital of the Pacific.
Additional educational efforts take place via social media and marketing. The HNTR Facebook page is located at https://www.facebook.com/HawaiiNT/. On YouTube (https://www.youtube.com/channel/UCkQTp_4rNPxWJSXLm0_h0XA) you can watch our programs on stroke and traumatic brain injury, listen to our radio program with Rick Hamada, and watch a lecture by international expert Dr. David Cifu entitled, "Battlefield to Ballfield: An Integrative Approach to Traumatic Brain Injury." We've recorded three PSAs (public service announcements) on neurotrauma injuries that will air on `Ōlelo in the upcoming months. A free on-demand webinar on stroke prevention and treatment, directed toward the general public, will soon be available. Additional webinars on traumatic brain injury and spinal cord injury are planned.
We need your help! As you encounter Hawaii residents with neurotrauma injuries, please let them know about HNTR and encourage them to consider participating. It does not matter when or where the injury or injuries took place. We make it easy to take the survey. It can be done online at www.HNTRsurvey.com. We can administer the survey over the phone (call 692-1375 or toll-free from Neighbor Islands, 1-888-447-9023). On Oahu, we can meet a participant at a mutually agreed upon location to conduct the survey. We can also mail a hard copy with a postage-paid return envelope. If you know of any upcoming events that HNTR might participate in, please notify us.
We have brochures geared towards the general public, parents/guardians, and Veterans. We are available to give presentations on stroke, traumatic brain injury, and spinal cord injury. The presentations are geared toward your group composition and age range. With advance planning, we may be able to deliver presentations to Neighbor Island groups. Let people know about our free information and referral service for residents with neurotrauma injuries (692-1375, toll-free 1-888-447-9023).
For brochures, to schedule a presentation, tell us about an event, or anything else, please don't hesitate to contact us at 692-1375 or toll-free from Neighbor Islands, 1-888-447-9023, or email [email protected]. Mahalo for your assistance.