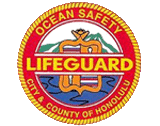 The 2017 State of Hawaii Drowning Prevention and Ocean Safety Conference "Celebrating the 100th Anniversary of Life guarding on Oahu" will be held on July 27-28, 2017 at the Hawaii Convention Center. Topics include The Impact of Global Warming on Hawaii Beaches, Snorkeling Related Drownings in Hawaii, Spinal Cord Injuries in the Aquatic Environment and much more!
Please view the Ocean Safety Conference Agenda!
Please download the Ocean Safety Conference Registration!