Wendi Wagner RN BA MN
Trauma Program Manager at Kona Community Hospital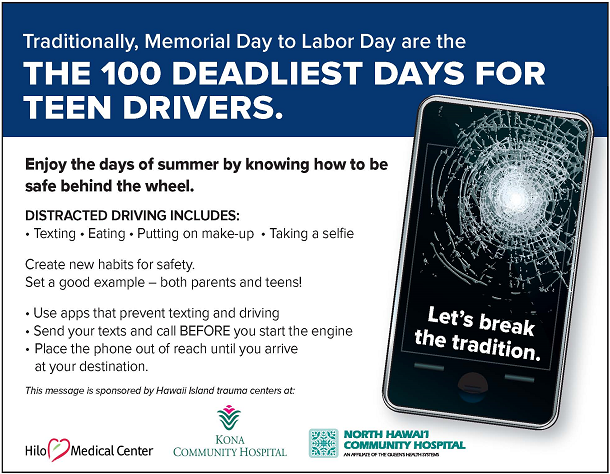 In February 2017, the National Safety Council released preliminary data on motor vehicle deaths in the U.S.  Data indicate that vehicular deaths increased 6% in 2015, making the nationwide two-year total increase a staggering 14%.
In Hawaii, the death certificate data reflects a similar increase among motor vehicle occupant deaths.  Data from death certificates indicate there were 60 motor vehicle occupant deaths in 2016 compared to the previous 5-years (2011-2015) average of 49 deaths per year.   That is a 22% increase over the annual average for the previous 5-year period.
Following the release of the 2016 traffic death statistics, Kona Community Hospital, Hilo Medical Center and North Hawaii Community Hospital and their Trauma Centers teamed up to collaborate on a county-wide summer safety ad campaign to focus on distracted driving crashes due specifically to texting.
The ad campaign, titled the "100 deadliest days of summer" is intended to raise public awareness by sending a clear, focused message to drivers – especially teen drivers – that texting and driving is dangerous activity with deadly consequences.
Organizers plan to blanket Big Island media outlets including radio stations, newspapers, websites, newsletters and social media by pooling the hospitals' marketing resources.  The Big Island Trauma Advisory Committee is supportive of the initiative and will help provide data to support the messaging.
The "100 deadliest days of summer" ad campaign launched on Memorial Day weekend, and will run through Labor Day.