Second-Hand Smoke
Second-hand smoke is a mixture of the smoke given off by the burning end of a cigarette, pipe, or cigar, and the smoke exhaled from the lungs of smokers.  Not everyone is fully aware of the risks of exposure which is especially worrisome for infants and children, who are at highest risk of tobacco smoke exposure in the environment that should be the safest for them – the home or in cars.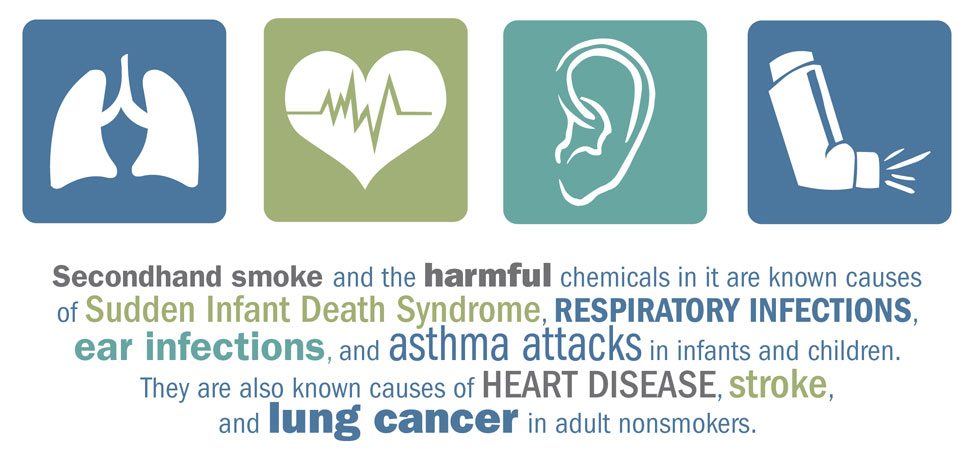 DOWNLOAD SECOND HAND SMOKE FACT SHEET 2015
---
Education
TPEP conducts educational projects to increase awareness of the value of smoke free laws and policies.  Outreach efforts include speaking to community groups and advising agencies interested in creating a smoke free environment.  An important partner is the Coalition for a Tobacco Free Hawai'i which has coordinators on all the major islands.
Second-hand smoke facts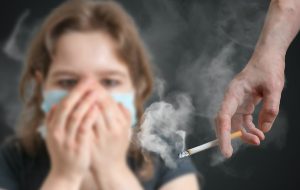 Secondhand smoke contains more than 250 chemicals known to be toxic or
carcinogenic (cancer-causing), including formaldehyde, benzene, vinyl chloride, arsenic, ammonia, and hydrogen cyanide. Children who are exposed to secondhand smoke are inhaling many of the same cancer-causing substances and poisons as smokers. CDC; Children Are Hurt By Second Hand Smoke
More than 58 million nonsmokers in the United States are still exposed to secondhand smoke, even though cigarette smoking rates are dropping and many states prohibit smoking in public places such as worksites, restaurants, and bars. In all, about 1 of every 4 nonsmokers is exposed to the dangerous chemicals in secondhand smoke.
In the US second-hand smoke is annually responsible for:
Third hand smoke, the left over pollution after a cigarette is put out, is also a danger to infants.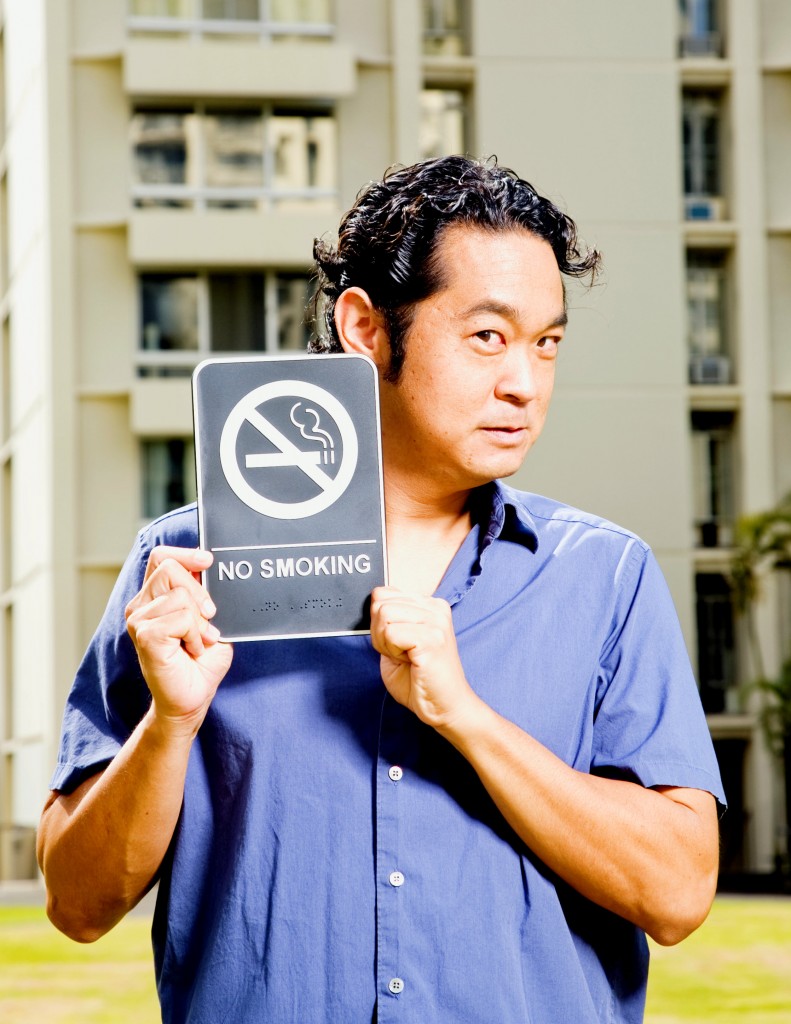 Housing
Living in a smoke-free home lowers the risk to residents for developing asthma, pneumonia, bronchitis and ear infections. Smoke free buildings may also be more appealing to prospective buyers and renters and, are less costly to clean when vacated.
38.9% of our state's population live in multiunit housing, well above the national average of 25.9%. The U.S. Department of Housing and Urban Development has encouraged public housing authorities, as well as owners and managers of multi-family housing rental assistance programs such as Section 8, to adopt smoke-free policies in their properties.  As of January 2012, more than 250 public housing authorities have gone smoke-free. All of the Hawai'i Public Housing Authority (HPHA) 85 public housing units are required to be smoke free.
Whatever the temperature, when air flows from a high pressure area to a lower pressure area, it creates wind. And when wind impinges on a building, the interior air tends to flow from the windward side to the leeward side, i.e. from high pressure to low pressure. This Center for Energy and Environment "Wind Effect" animated video shows how air carries second hand smoke as wind pushes it from one unit to an adjoining unit.
Download CAI newsletter on smoke free housing
Download Adopting a Smoke-Free Policy: A Guide for Hawai'i Multi-Unit Housing Owners, Associations and Managers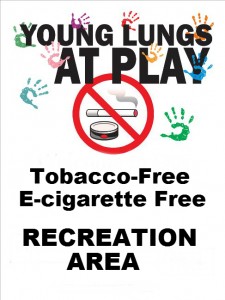 Recreation areas
Between 1993 to 2011 smoking bans were enacted in 843 parks and 150 beaches across the U.S. These laws not only prevent second-hand smoke but also discourage discarded cigarette butts which can be a hazard to children and animals. Smoldering butts and matches tossed onto the ground cause hundreds of fires each year.
In 1993 Oahu's famed Hanauma Bay park, recognized as one of America's top beaches, was the first beach in the nation to go smoke free.
In 2008 Hawai'I County passed the state's first county wide ban on smoking in parks, gymnasiums and recreational facilities.
In July 2013 the Honolulu City Council banned smoking at all bus stops, city parks, beaches, athletic fields and facilities on Oahu.
In 2014 the Maui County Council banned smoking at all county beaches and parks.
Vehicles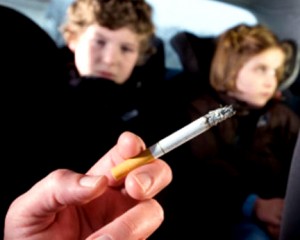 A 2006 study found "alarming" levels of second-hand smoke were generated in just five minutes in vehicles under various driving, ventilation, and smoking conditions. Smoking just one cigarette in a vehicle far exceeded fine particle exposure limits set by the Environmental Protection Agency (EPA) and raised second-hand smoke levels several times higher than levels found in smoky bars and restaurants.
A 2010 survey found in Hawai'i  those with less than a high school education (28%) were five times more likely to have been exposed to cigarette smoke  than those with a
college education (5.2%).
To date only Hawai'i County bans smoking in vehicles with passengers under 18 years of age.
---
Tobacco Prevention & Education Program – 1250 Punchbowl St. Rm 217- Honolulu, HI 96813
Phone: (808) 586-4613 / Fax: (808) 586-8252
---