Laws and Policies
Smoke Free Environment
In 2006 the Hawaiʻi State Legislature passed sweeping laws under HRS328J expanding the scope of smoke free prohibitions in various enclosed and partially enclosed areas.  Effective January 1, 2016 the prohibition now includes electronic smoking devices also known as e-cigarettes: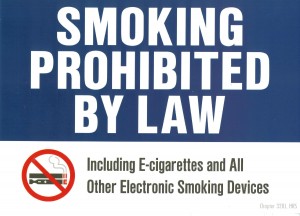 Work and educational settings
Restaurants and retail settings
Hotels and multi-unit housing common areas
Care and rehabilitation facilities including prisons
Indoor and outdoor recreational settings
Transportation related areas
Clearly legible signs that include the words Smoking Prohibited by Law with letters not less than an inch high or, the international "no smoking" symbol shall be clearly posted at entrances at places open to the public or places of employment were smoking is prohibited.
Local counties have also passed laws calling for additional smoking restrictions in areas not covered by state laws. Individual agencies and multi-unit buildings such as condominiums have also enacted their own smoke free policies for their respective properties. A growing number of agencies and private businesses have developed individual policies banning their use in settings such the work place, restaurants or city operated buses. Current state law restrict sales of electronic smoking devices (ESD) including e-cigarettes by persons under 18.
Download Guide to Tobacco Laws & Policies (2017)
---
Tobacco Prevention & Education Program – 1250 Punchbowl St. Rm 217- Honolulu, HI 96813
Phone: (808) 586-4613 / Fax: (808) 586-8252
---