Hawaii School Health Survey
Background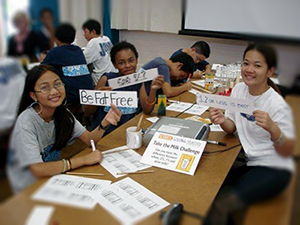 The Hawaii School Health Survey (HSHS) is a joint effort between the Hawaii Departments of Health and Education to monitor the health status and needs of students in grades 6 through 12.  The HSHS coordinates different youth surveys under one umbrella to minimize disruption in the schools and maximize the breath of health information collected.  Oversight for the HSHS is provided by various programs within the Departments of Health and Education with input from the University of Hawaii and other state and community agencies through the HSHS Committee.  The University of Hawaii, Curriculum Research and Development Group is the contractor that administers the HSHS to students with local school principals and teachers. We are very grateful to school officials and teachers and especially the students who make this survey possible.

HSHS is currently administered to public school students in grades 6-12 in odd-numbered years.  The anonymous, pencil and paper survey is given to students in randomly selected classes in participating schools.  Parental consent is required for all participants.   Currently, the survey consists of two modules: the Youth Risk Behavior Survey with additional questions on alcohol and drug abuse, and the Youth Tobacco Survey.  These surveys are developed and tested by the Centers for Disease Control and Prevention, are part of national youth surveillance efforts, and provide important information on the health status of our children
What topics are covered by the surveys?
The Youth Risk Behavior Survey (YRBS) monitors six types of health-risk behaviors that contribute to the leading causes of death and disability among teens and young adults:
Behaviors that contribute to unintentional injuries and violence
Sexual behaviors that contribute to unintended pregnancy and sexually transmitted diseases, including HIV infection
Alcohol and other drug use
Tobacco use
Unhealthy dietary behaviors
Inadequate physical activity
It also measures the prevalence of obesity and asthma among students and special topics of local interests are also covered.  For example, in 2011 additional questions were added to learn more about tattoo prevalence among students, and 2013 asked about oral health.  Click here for more information about the Youth Risk Behavior Surveillance System in the US. For more information about the YRBS in Hawaii, click here.
The Youth Tobacco Survey (YTS)  is intended to enhance the capacity of state and local agencies to design, implement, and evaluate tobacco prevention and control programs to prevent tobacco use among non-users and to help users quit.  To that end, the YTS measures:
Knowledge and attitudes regarding tobacco use
Exposure to media and advertising
Information on the enforcement of minors' access regulations and laws
Presence of tobacco programs in school curricula
Cessation attempts and successes
Second-hand smoke exposure
Prevalence of tobacco products: traditional (cigarettes, cigars, smokeless tobacco) and novel tobacco (pipe use, bidis, kreteks, e-cigarettes and snus)
For more information about the YTS click here.
Where can I find data on Hawaii Youth?
The Hawaii Health Data Warehouse provides detailed reports for the YRBS and YTS. Researchers interested in record-level data can access the Department of Education research website to submit an application.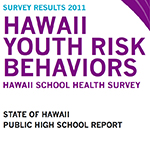 These brochures were created by the Hawaii Department of Education (DOE), Hawaii Department of Health (DOH) & University of Hawaii's Curriculum Research & Development Group.
2013 YRBS tri-fold brochures for the state and counties:
YRBS Middle School Reports:
YRBS High School Reports:
2011 YRBS tri-fold brochures for the state and counties:
YRBS Middle School Reports:
YRBS High School Reports:
YRBS Summary reports for 2011, 2007 and 2005:
YTS reports for 2011, 2009, and 2007: