State Department Issues "Do Not Travel" Advisory for China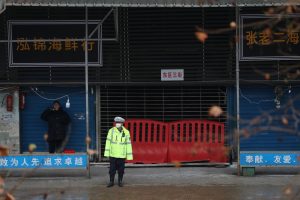 ATTENTION: This is a past news report about the ongoing outbreak of COVID-19 (2019 Novel Coronavirus, formerly known as 2019-nCoV). For comprehensive and updated information about this outbreak, see our COVID-19 advisories page. For more recent news items about COVID-19, see our latest updates on the news page. 
ORIGINAL NEWS ITEM:
What is happening?
The U.S. Department of State has issued a Travel Advisory for China. The Level 4 "Do not travel" warning instructs U.S. citizens and residents not to travel to the People's Republic of China; it is the strongest travel advisory issued by the State Department. The travel advisory does not cover China's Special Administrative Regions of Hong Kong and Macau or Taiwan (Republic of China). (In the previous week, the Centers for Disease Control & Prevention [CDC] had issued travel guidance for China, recommending that travelers avoid all nonessential travel to the country.)
This strong travel advisory is due to the novel coronavirus first identified in Wuhan, in central China's Hubei Province. On January 30, the World Health Organization (WHO) determined the rapidly spreading outbreak constitutes a Public Health Emergency of International Concern (PHEIC). Tens of thousands of cases have been reported across China, where health officials say there is sustained person-to-person community spread. The number of dead has surpassed 900. So far, however, community spread of 2019-nCoV has not been reported outside of China.
In the United States, the number of cases remains low, with a dozen cases confirmed in Washington State, California, Illinois, Arizona, Wisconsin, and Massachusetts. At this time there are no confirmed cases or persons under investigation (PUI) in Hawaii.
The goal of the U.S. public health response is to contain this outbreak and prevent sustained spread in this country, where the immediate health risk to the general American public is considered low at this time. CDC is aggressively responding to this serious health situation and will continue to update the public as they learn more about this novel coronavirus.
Human coronaviruses are common. Other coronaviruses circulate in animals, including camels, cats, and bats, but they can sometimes evolve and infect people. This is what happened with MERS (Middle East Respiratory Syndrome) and SARS (Severe Acute Respiratory Syndrome). Most of those affected by this new coronavirus were linked to a large seafood and animal market, likely through animal-to-person spread; the market has since been closed to slow spread of the virus.
While some 2019-nCoV patients have had severe illness and several deaths have occurred, other patients have had milder illness and been discharged. Symptoms associated with this virus have included fever, cough, and trouble breathing. The public is asked to take measures to prevent the spread of disease, such as those described below.
What can you do?
If you have been in China (except Hong Kong, Macau, and Taiwan) within the last 14 days, you should do the following:
Report your travel to China when you arrive in Hawaii. Due to federal restrictions, you may be asked to quarantine yourself at home and monitor your health for illness even if you are now healthy upon arrival. If you do become sick, stay home; except for seeking medical care, avoid contact with others.
If you become sick within 14 days after being in China, seek medical care right away. Before you go to a doctor's office or emergency room, call ahead and tell them about your recent travel and your symptoms.
Not travel while sick.
Cover your mouth and nose with a tissue or sleeve (not your hands) when coughing or sneezing.
Wash hands often with soap and water for at least 20 seconds. Use an alcohol-based hand sanitizer if soap and water are not available.
The Hawaii Department of Health (DOH) also recommends all persons get vaccinated for influenza ("the flu"). With current seasonal influenza activity, it is likely that there will be confusion as persons with influenza will exhibit similar signs and symptoms to 2019-nCoV, such as fever and cough. Preventing the flu with vaccination will reduce the number of flu cases in Hawaii clinics and hospitals. DOH strongly recommends that residents 6 months and older protect themselves against flu by receiving the seasonal influenza vaccination.
For more information, including information for clinicians and public health professionals, please go to the following DOH and CDC webpages: