DOH reminds Hawaii residents cloth face masks are no substitute for social distancing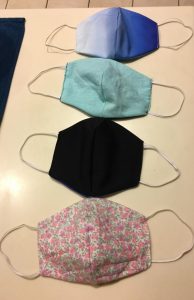 The Hawaii Department of Health (DOH) has issued a statement reminding residents that cloth face masks are not a substitute for other measures meant to prevent the spread of COVID-19, such as social distancing (e.g., staying at least 6 feet away from other people), stay-at-home orders, and frequent hand washing. Wearing a cloth face mask is intended to complement those more important efforts.
This reminder comes as the Centers for Disease Control & Prevention (CDC) updated their recommendations on cloth face masks in the face of new evidence. They now suggest that wearing a cloth face mask could be somewhat useful in limiting spread of COVID-19 in places where there is a lot of transmission of the illness, because the masks might block some droplets coming from the mouths of people infected with the virus causing COVID-19 but who don't know it yet because they have not yet shown symptoms.
CDC warned, however, that surgical masks and N95 respirators, which are in short supply, should be reserved for healthcare settings and those caring for COVID-19 patients.
You can learn more about the COVID-19 outbreak at the DOH website:
health.hawaii.gov/covid19.
Go here to learn more about how to protect yourself and your family during the COVID-19 outbreak:
health.hawaii.gov/prepare/protect-your-family/prevention-and-preparedness-during-covid-19-outbreak