DOH Leadership says stopping COVID-19 begins with all of us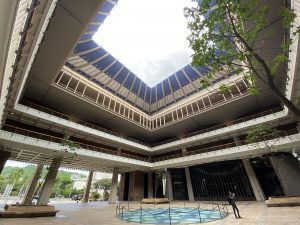 The Director of the Hawaii Deparment of Health (DOH), Dr. Bruce Anderson, and the Hawaii State Epidemiologist, Dr. Sarah Park, spoke at a news conference where the state reported its highest numbers to date of COVID-19 cases.
Although much of the concern has centered on out-of-state travelers, community spread has also increased in recent weeks. Dr. Park noted that many people are "letting their guard down," but it is okay to be with family and friends if you keep a safe distance of 6 feet or more and wear a mask, whether you're inside or outside.
Dr. Anderson, Dr. Park, and Governor David Ige also emphasized the importance of making smart choices when it comes to activities and dining out, like making sure there's enough social physical distance between people and those people are wearing masks.
Dr. Anderson explained that tools such as contact tracing are helpful tools to slow the spread of the coronavirus, but there is no substitute for preventive measure like distancing, masks, and frequent hand washing.
You can learn more about the COVID-19 outbreak at the DOH website:
health.hawaii.gov/covid19.
Go here to learn more about how to protect yourself and your family during the COVID-19 outbreak:
health.hawaii.gov/prepare/protect-your-family/prevention-and-preparedness-during-covid-19-outbreak