Increase in COVID-19 cases leads Hawaii to reinstate interisland travel quarantine while Oahu implements new restrictions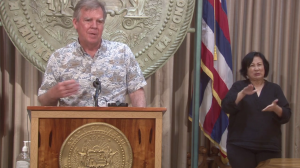 Hawaii Governor David Ige and Honolulu Mayor Kirk Caldwell, appearing with Hawaii Department of Health Director Dr. Bruce Anderson, announced new restrictions in light of a surge in COVID-19 cases across the state and on Oahu in particular.
They said additional measures are necessary because large gatherings have led to clusters of cases, but the Governor and Mayor are trying to avoid returning to a fuller lockdown like the state experienced several months earlier.
Among the changes, the mandatory 14-day quarantine for interisland travelers will be reinstated on Tuesday, August 11.
Across Oahu,
the City & County of Honolulu will implement a plan called "Act With Care — Do Not Gather" that goes in effect on Friday August 7
.
It includes the following:
All parks will be closed.
All beaches fronting parks will be closed.
All state beach parks will be closed.
No activities will be allowed on the beach or in the parks, but crossing the parks to swim, surf, or engage in cultural practices will be allowed. Public restrooms will remain open.
All hiking trails will be closed.
All public pools and private pool clubs will be closed.
Voting centers will remain open until August 8.
All team sports in any City & County park will be suspended.
Indoor attractions such as bowling alleys and mini golf will be closed.
Gyms will be allowed to remain open, but group classes will not be allowed.
Some activities will continue to be allowed, with proper social distancing and mask usage:
Restaurants
Spiritual services
Movie theaters
The press conference can be viewed here:
You can learn more about the COVID-19 outbreak at the DOH website:
health.hawaii.gov/covid19.
Go here to learn more about how to protect yourself and your family during the COVID-19 outbreak:
health.hawaii.gov/prepare/protect-your-family/prevention-and-preparedness-during-covid-19-outbreak