Governor Ige announces new procedures as inter-island travel quarantine is lifted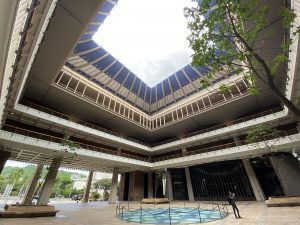 On Tuesday, June 16, the State of Hawaii will lift the 14-day quarantine required of all people traveling between islands. The mandatory quarantine had been implemented in order to control spread of COVID-19, but as new infection rates remain law, Governor David Ige announced an end to the quarantine in order to encourage residents to safely reunite with family and friends on neighbor islands and help support our kamaʻāina economy.
However, with the end of the quarantine there are new procedures for inter-island travel that may require extra planning and travel time.
Flying between islands will be a different experience. New travel procedures include:
Thermal screening prior to departure. Anyone with a temperature of 100.4°F or higher will not be allowed to board the plane.
A new, mandatory travel form that can be completed before arriving at the airport will provide health screening and contact tracing information.
Arrive early. As these new processes are implemented, authorities ask for patience from inter-island travelers. It is recommended that passengers arrive early and anticipate additional wait times.
Although low COVID-19 levels across all islands are allowing the cautious reopening of the state, we must all continue safe practices to ensure our state doesn't experience a surge that overwhelms our healthcare capacity.
At the same time, Governor Ige has extended the mandatory 14-day quarantine for out-of-state travelers through July 31.
You can learn more about the COVID-19 outbreak at the DOH website:
health.hawaii.gov/covid19.
Go here to learn more about how to protect yourself and your family during the COVID-19 outbreak:
health.hawaii.gov/prepare/protect-your-family/prevention-and-preparedness-during-covid-19-outbreak