Governor Ige announces phases of reopening economy during COVID-19 pandemic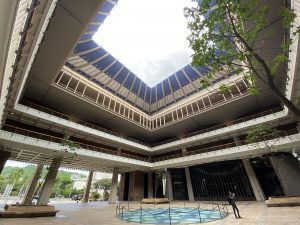 Governor Ige announced the 8th supplemental emergency proclamation on Monday, May 18. It extends at least until June 30 the 14-day quarantine for travelers arriving in the State of Hawai'i, as well as for inter-island travelers. It also extends through June 30 the eviction moratorium that prevents evictions from residential dwellings for failure to pay rent.
Additionally, Governor Ige revealed the state's re-opening and recovery plan, a coordinated, statewide approach to jumpstarting the economy and recovery from the COVID-19 crisis.
The plan allows for the gradually re-opening of medium-risk businesses and operations beginning in June, as long as  the state's COVID-19 activity remains manageable. The re-opening of high-risk businesses and operations will eventually follow, as long as Hawai'i's disease activity continues to remain manageable.
The Governor's office says these decisions will be "based on data, science, and best practices," citing guidance from the World Health Organization (WHO), US Centers for Disease Control & Prevention (CDC), and Johns Hopkins University's Public Health Principles for a Phased Reopening.
A 14-day observation period between re-opening phases will allow the state time to assess conditions/disease activity before moving to the next level. As a safeguard, the state may consider the option of "moving back" (i.e., closing businesses and re-implementing restrictions) if disease activity significantly increases.
The re-opening and recovery strategy includes four phases:
Phase 1: Stabilization focuses on healing Hawai'i by saving lives and flattening the curve in our community. (Hawai'i has transitioned through this phase by re-opening low-risk businesses in the last few weeks).
Phase 2: Re-opening celebrates Hawai'i's Kama'āina Economy, where the state starts to re-open medium-risk businesses and activities, and later – re-opening high-risk businesses and activities.
Phase 3: Long-term recovery – where the state renews and rebuilds Hawai'i's economy through planning and policy discussions, incorporating transitional workforce modernization opportunities, supporting economic diversification initiatives, targeting the development of emerging industries, and advancing long-term resiliency planning. At this level, the state will focus on re-opening highest risk businesses and activities, while remaining cautious and adjusting Safe Practices as needed. This phase is expected to take much longer, since this phase covers the reshaping of Hawai'i's economy.
Phase 4:  Resilience is the intended outcome for Hawai'i. Together, we will emerge stronger and more resilient as a result of learning from and overcoming this unprecedented challenge.
Under the emergency proclamation, county mayors will have the authority to make decisions for their counties, including re-opening businesses and implementing restrictions, with the governor's approval.
You can learn more about the COVID-19 outbreak at the DOH website:
health.hawaii.gov/covid19.
Go here to learn more about how to protect yourself and your family during the COVID-19 outbreak:
health.hawaii.gov/prepare/protect-your-family/prevention-and-preparedness-during-covid-19-outbreak