Governor Ige accepts county proposals to reopen more businesses across Hawaii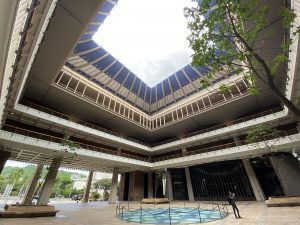 Governor David Ige approved proposals made by county mayors across Hawaii to safely reopen more businesses and operations as the number of new COVID-19 cases has remained very low for several weeks in a row. Requests to reopen businesses and operations were granted as long as guidelines were followed that can ensure the safety of employees and customers and prevent further spread of COVID-19.
On Oahu, Governor Ige approved City & County of Honolulu Mayor Kirk Caldwell's proposal to allow the following "personal service providers" to safely resume operations starting Friday, May 29, with modifications:
Barbers
Hairdressers
Nail technicians
Tattoo artists
Other beauty operators
The following outdoor attractions can reopen on Thursday, May 28, with limitations:
Sea life attractions
Water parks
Pools
Campgrounds
People's open markets
Shooting and archery ranges
Similar outdoor facilities
The following operations/activities will be allowed to reopen on Friday, June 5, with modifications:
Business/commercial businesses (in addition to restaurants)
Indoor residential, non-commercial gatherings of 10 or less (regardless of household)
In Maui County, Governor Ige approved Maui County Mayor Michael Victorino's request to reopen most businesses and services, with modifications, starting Monday, June 1, including the following:
Clubhouses
Dog parks
Playgrounds and skate parks
All county parks and beach parks (individual park re-opening dates are subject to change)
Select county pools
However, in Maui County the following businesses and services remain closed:
Bars and nightclubs
Theatres
Public gathering venues
Banquet halls
County Community Centers
County  Gymnasiums
On the Big Island, Governor Ige approved Hawaii County Mayor Harry Kim's proposal to reopen the following businesses/operations with modifications, starting Monday, June 1:
Places of worship
Personal services (salons, barber shops, beauty operators)
Restaurants (including food courts)
However, in Hawaii County the following businesses and services remain closed:
In Kauai County, Governor Ige had approved Kauai County Mayor Derek Kawakami's proposal to reopen the following businesses starting Friday, May 22:
Public and private pools
Places of worship
Outdoor tour activities
Salons and barbershops
All cleaning and construction work
One-on-one personal services (fitness, tutoring, music lessons)
Across the state, the 14-day quarantine orders for travelers to Hawaii (including Hawaii residents) and for interisland travelers remain in effect, at least until June 30.
The governor's and mayors' plans allow for the gradually re-opening of medium-risk businesses and operations as long as  the state's COVID-19 activity remains manageable. The re-opening of high-risk businesses and operations will eventually follow, as long as Hawai'i's disease activity continues to remain manageable.
The Governor's office says these decisions will be "based on data, science, and best practices," citing guidance from the World Health Organization (WHO), US Centers for Disease Control & Prevention (CDC), and Johns Hopkins University's Public Health Principles for a Phased Reopening.
You can learn more about the COVID-19 outbreak at the DOH website:
health.hawaii.gov/covid19.
Go here to learn more about how to protect yourself and your family during the COVID-19 outbreak:
health.hawaii.gov/prepare/protect-your-family/prevention-and-preparedness-during-covid-19-outbreak