2020 hurricane season begins in the Central Pacific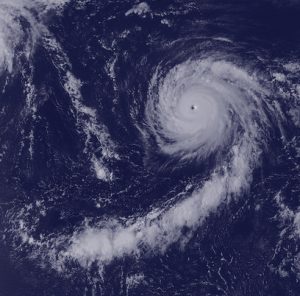 June 1 marks the beginning of the 2020 Central Pacific hurricane season, which runs until November 30. The National Oceanic and Atmospheric Administration's (NOAA) Central Pacific Hurricane Center is predicting a near or below-normal hurricane season in the region this year, due to near-average ocean temperatures in the central and eastern Pacific Ocean where hurricanes form. However, there is still a 25% chance that this season will be above average.
A total of 2 to 6 tropical cyclones (tropical depressions, named storms, and hurricanes) are predicted for the Central Pacific hurricane basin; a typical season is 4 to 6 tropical cyclones. It is not known how many will hit or come close to the state. A hurricane or other tropical storm can bring devastating winds and torrential rain even if it does not directly strike the islands.
Because we do not know what is in store this season, the Office of Public Health Preparedness encourages all state residents to make sure they and their family are prepared for hurricanes and other emergencies.
Because of the state's isolation, Hawaii residents are vulnerable to shortages if infrastructure is damaged by a hurricane, earthquake, tsunami, or other disaster. That's why all Hawaii residents are recommended to have an emergency kit with enough water, food, medicine, and other essentials that will last AT LEAST TWO WEEKS.
The 2020 hurricane season comes as Hawaii, the rest of the United States, and countries around the globe are dealing with the ongoing COVID-19 pandemic. This health crisis makes family emergency kits a greater challenge, since some essential goods or health products may not be easily available, so Hawaii residents are encouraged to get their kit together sooner rather than later.
Hawaii residents are also urged to learn what to do before, during, and after a hurricane or other emergency. For more information on emergency kits, hurricane season, and disaster preparedness, visit these web pages:
health.hawaii.gov/prepare/advisories/hurricane-season
health.hawaii.gov/prepare/protect-your-family