Understanding SCI
---
Understanding Spinal Cord Injury
While the cause and nature of the spinal cord injury varies with the individual, and each person responds according to their personality and prognosis, there are some emotions commonly experienced by those who have had a spinal cord injury:
Feelings of dependency may cause your loved one to withdraw. For many people, the idea of losing even the smallest bit of self-sufficiency can be almost unbearable.
He or she may believe they've become a burden on you and others. The person may feel they're "dragging everybody down" and that the family would be "better off " without them.
Struggles with self-image and self-esteem, and fear of abandonment may contribute to expressions of anger or isolation.
Embarrassment, or even shame, may arise from unexpected physical changes and loss of their abilities.
If these feelings become severe, persistent or cause loss of hope it may be symptoms of depression.  If you think you're loved one is depressed talk with their doctor and get help.
Rehabilitation and Recovery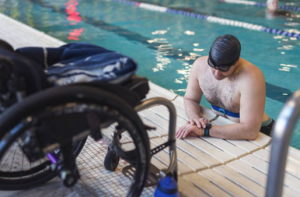 Your first experience as a caregiver for a spinal cord injury (SCI) usually comes during rehabilitation (rehab). The rehab team will take the lead in your loved ones recovery.  During this time there are some things you can do to help.
Visit and talk with your loved one often. Find activities you can do together, such as playing cards/games or watching TV. Keep in touch with your loved one's friends and encourage them to visit.
Help your loved one practice and learn new skills.
Find out what he or she can do independently or needs help with. Avoid doing things for your loved one that he or she is able to do without your help.
Learn what you and your family can do after your loved one returns home. This may include helping him or her with the wheelchair, getting to and from the bathroom, and eating.
Source: https://www.webmd.com/brain/tc/living-with-a-spinal-cord-injury-concerns-of-the-caregiver#1
When you leave a rehabilitation (rehab) center for your home after a spinal cord injury (SCI), you need to have your home ready for your special needs. Following are some of the adaptations and adaptive equipment you may need. Talk with your rehab team about what you will need specifically and the best way to proceed.
Wheelchair fit. If you are in a wheelchair most of the time, height and width are a concern. You may need to build a ramp into your home for easy entry in your wheelchair. Discuss with your rehab team how best to deal with hall and door width, countertops, water faucets, sinks, towel racks, light switches, and heating and cooling controls.
Eating and cooking. You may need special handles so you can hold spoons, forks, knives, plates, cups, and other utensils. You may need long straws to help you drink. If you cook, you may need a shorter stove, or you can install a mirror over the stove so you can see the food while it is cooking.
Dressing and grooming. You may need tools to help you reach your feet, pull on socks, zip up zippers, and open and close buttons. You may also need Velcro fasteners for clothing or shoes, loops in your clothing to help you dress and undress, sponges or bath mitts, and special handles for toothbrushes, combs, razors, and hairbrushes. You may also need special mirrors.
Other adaptive equipment includes tools that help you pick up faraway things (reachers) and small objects (if you have little pinch strength). You may also need holders for telephones, pens, and pencils, and devices to turn on and adjust electric appliances such as radios, TVs, and computers.
Source: https://www.uofmhealth.org/health-library/ug2942#ug2942-sec