Types of Care
---
Types of Care
What type of care does a person with SCI need to live in the community?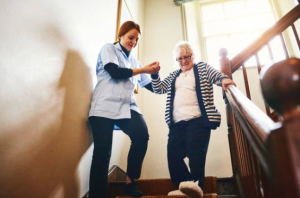 Each person living with a spinal cord injury will have different needs in levels of care and equipment. Some forms of care may include but are not limited to:
Personal care: showering, toileting, transferring, feeding.
Domestic services: meal preparation, shopping, cleaning, ironing.
Household support: gardening, home cleaning, home maintenance.
Community access: transportation, companion.
Nursing: medication.
Other: childcare and workplace or education support.
People with paraplegia may need little or no personal care, but may need assistance with domestic duties. Many people with high cervical injury will require permanent 24 hour care. Being closer to the brain and affecting a larger portion of the body, cervical spinal cord injuries are more severe. If there is an injury in the cervical area, it will result intetraplegia/quadriplegia, meaning there is limited or absent feeling or movement below the shoulders/neck.  Equipmentneeds include manual or power wheelchair with battery charger, portable ramps, hoist, pressure relief cushion, shower chair, catheter, adjustable bed, air conditioning, ventilator, physiotherapy, home automation (possible voice controlled), computer, modified vehicle.
Ongoing care
After the initial injury stabilizes, doctors turn their attention to preventing secondary problems that may arise, such as deconditioning, muscle contractures, pressure ulcers, bowel and bladder issues, respiratory infections and blood clots.
The length of your hospitalization depends on your condition and the medical issues you're facing. Once you're well enough to participate in therapies and treatment, you may transfer to a rehabilitation facility.
Rehabilitation
Rehabilitation team members will begin to work with you while you're in the early stages of recovery. Your team may include a physical therapist, occupational therapist, rehabilitation nurse, rehabilitation psychologist, social worker, dietitian, recreation therapist and a doctor who specializes in physical medicine (physiatrist) or spinal cord injuries.
During the initial stages of rehabilitation, therapists usually emphasize maintenance and strengthening of existing muscle function, redeveloping fine motor skills and learning adaptive techniques to accomplish day-to-day tasks.
You'll be educated on the effects of a spinal cord injury and how to prevent complications, and you'll be given advice on rebuilding your life and increasing your quality of life.
You'll be taught many new skills, and you'll use equipment and technology that can help you live on your own as much as possible. You'll be encouraged to resume your favorite hobbies, participate in social and fitness activities and return to school or the workplace.
Medications
Medications may be used to manage some of the effects of spinal cord injury. These include medications to control pain and muscle spasticity, as well as medications that can improve bladder control, bowel control and sexual functioning.