Tips for Caring
---
Tips for Caring for Someone with a Spinal Cord Injury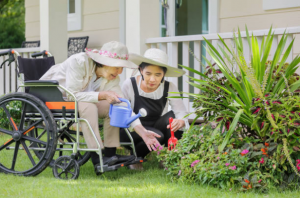 According to Caregiver Action Network approximately 39.8 million caregivers provide care to adults with a disability or illness. Helping someone you care for to maintain their independence at home is valuable work. Caregiving can be both rewarding and difficult, emotionally and physically.While it is important to learn how to care of your loved one with SCI it is even more important for you to learn how to take care of yourself.Maintaining self health is critical for your wellness and your ability to adequately take care of your loved one.
Below are several ways that caregivers can take care of themselves, and therefore take better care of their loved ones.
Manage Stress –
Be aware of negative feelings and stress levels.  Continued stress puts people at higher risk for serious health problems including illness, addiction, and depression. Once caregivers identify their stressors, they can work to manage them.
Stay Healthy –
The physical health of the caregiver affects his/her feelings and ability to handle stress.  Caring for a spinal cord injured person also presents unique problems.  The caregiver is engaging in more physical activity and coming into contact with bodily fluids and waste; this can increase the caregiver's risk of infection.  Caregivers should take vitamins, wash their hands frequently, keep doctor's appointments, eat nutritious meals, get adequate sleep, and find ways to relax.
Manage Your Time –
Managing your time can help maintain balance in your life. Proper time management can lower stress levels.  Caregivers should put their own needs high on their "to do" lists.  Don't be afraid to ask for help and share the work.  Keep a list of chores/tasks to give to friends and family who ask what they can do to help.
Manage Your Money –
The costs of medical care for a spinal cord injury can cause great financial stress.  You're your finances in order and recheck them periodically.
Educate Yourself –
When the spinal cord injured person is in a hospital or rehabilitation center, learn from patient educators and medical personnel.  At home, check the library and the Internet for resources on spinal cord injuries and caregiving.
Ask for the Help You Need –
Don't try to do everything yourself.Understand your limits and ask other family members for help.Find out what other type of help is available.If possible hire a personal care assistant who is specially trained to help in these situations.
Develop a Support System –
Caregivers should reach out to others and talk about their feelings.  Keeping a regular "coffee date" with a friend or going to church can reduce feelings of anxiety and isolation.  Support groups (in-person and online) are great ways to talk to other people who are going through similar experiences.
Schedule time for Yourself–
Get out of the house to do things that you enjoy.Maintaining your independence is helpful inmanaging your stress.