My Family
Lead exposure at any level can affect a child's health and brain development, but it can be prevented!
Lead is a toxic metal that is dangerous to your family's health. You may be exposed to sources of lead in your everyday environment like lead-based paint, contaminated soil, contaminated dust, and from products you use on a daily basis. Young children like to play on the ground and put their hands or other objects in their mouth, putting them at risk for swallowing or breathing in the lead that is around them. Pregnant women who are exposed to lead can pass on lead to their unborn baby, causing pregnancy complications and negative birth outcomes.

Sources of Lead In Hawaii

See the Lead Sources Flyer for more information and easy steps you can take now to protect your family.
Lead-based paint is the most common source of childhood lead exposure. If your house was built before 1978, it may contain lead-based paint. This lead may still be on painted walls, floors, ceilings, and window sills, or on the exterior of the house. Decaying, peeling, or flaking paint can introduce lead into household dust and can expose your child to a lead hazard. If you live in an old home and your paint is decaying or you are worried that child may have lead poisoning, consider having your house tested for lead. See the My Home section for more information on testing your home for lead and safely repairing the deteriorating paint.
Your child can be exposed to lead outside of your home. When determining where your child may be exposed to lead, consider places your child visits frequently such as a child care center, a preschool, or a family member's home.

Signs and Symptoms of Childhood Lead Poisoning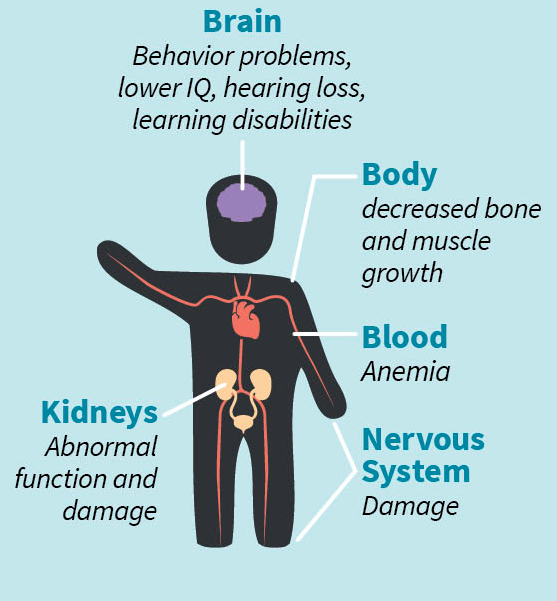 No amount of lead in the body is safe. The amount of lead stored in a child's body depends on the lead source, the child's diet, and whether the lead was ingested or inhaled. Most children will not show signs of lead poisoning right away, but may have learning and behavior problems in school. The damage caused by lead exposure is permanent.
Lead exposure can cause:
Damage to the kidneys, brain and nervous system
Slowed growth and development
Problems with learning, behavior, hearing and speech
Which may lead to:
Decreased attention span, hyperactivity
Under-performance in school
Lower IQ
At higher levels, symptoms may include:
Headaches, irritability
Tiredness, fatigue
Stomach aches, nausea, vomiting, constipation
Weight loss, loss of appetite

Blood Lead Testing
The only way to know if your child has been exposed to lead is by asking their doctor for a blood lead test.
Make sure your child's doctor tests them for lead at 9-12 months and 24 months or at any age if you are concerned about possible lead poisoning. The doctor will order a capillary blood lead test with a finger stick. If your child's blood lead level is elevated, a venous blood lead test, or blood drawn from the vein, will be needed to confirm the blood lead results. Testing is free for children with Medicaid / QUEST insurance.
You can download and complete the Lead Risk Screening Questions to assess your child's level of risk. Bring the completed form to your child's next well child visit and discuss the results with your child's doctor to determine if they need a blood lead test.
If your child already received an elevated blood lead result, you can download the Lead Care Team Fact Sheet to see how your child's doctor and the lead poisoning prevention team will work with your family to help get your keiki lead-free!

You Can Help Protect Your Child From Lead in Five Simple Steps!


Help Your Child Learn And Grow
Children are born learning and it is important to encourage that curiosity to learn. Lead-exposed children may have a harder time learning and may develop at a slower pace than other children. This is because lead causes damage to a child's brain.
Your child uses every day experiences and encounters as a learning opportunity. You can help your child learn and grow by spending one-on-one time with your child, doing fun developmental activities, and enrolling your child in an early childhood program.
The Lead Poisoning Prevention Program also works with the Hi'ilei Developmental Screening Program. Hi'ilei is a free resource for children from birth to 5 years. The program provides your child with FREE developmental screenings, information on community resources, and a list of fun activities to make sure your child is developing like other children their age. Families can complete a developmental screening online or receive a questionnaire by mail.
Download the School Readiness Fact Sheet for more information about how you can prepare your child for school success.

How is Your Child Developing?
Hi'ilei Developmental Screening Program – A FREE resource to see how your child is developing
CDC Milestones – Information about how your child should be developing at each stage in their life
Hawai'i Early Learning and Development Standards – Developmental milestones for a child age 1 to 5
Learning to Grow – Ideas for fun ways to help your child develop

Find Resources for Your Family
Sharing Our 'Ulu – Resources for Families with Children Under 5
Parent Line – The Parent Line serves anyone with concerns about parenting
Low to No-Cost Early Childhood Development and Learning Programs – Executive Office on Early Learning

Additional Information
Lead Poisoning Prevention – Centers for Disease Control and Prevention
Steps to Protect Your Family From Lead Exposure – American Academy of Pediatrics
Make Sure Lead Safety is a Part of Your Renovation Plans – Environmental Protection Agency
Booklet – Protect Your Family From Lead in Your Home – Environmental Protection Agency
Recalled Items with Lead – Consumer Product Safety Commission
Information About Lead in Catchment Water – Safe Drinking Water Branch
Lead Hotline – National Lead Information Center
Lead Poisoning Information – Hawaii Poison Center