COVID-19 Treatment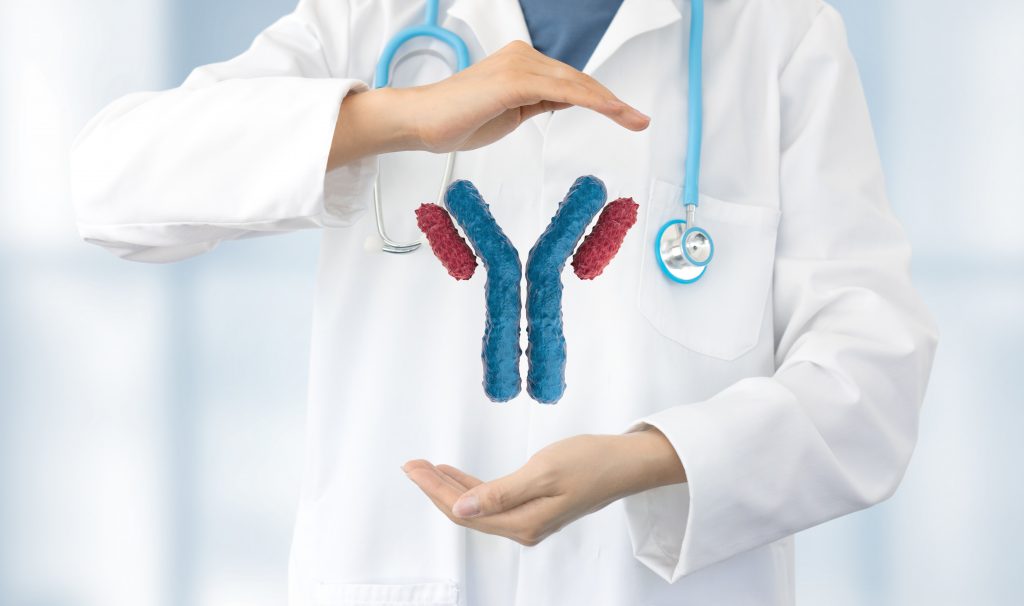 Monoclonal Antibody Therapeutics (MAb)  
Background. Since early 2020, the SARS-CoV-2 virus has caused >700,000 deaths in the U.S. and is responsible for >800 COVID-19 related deaths in Hawai'i. Those known to be at increased risk include the elderly, those immunocompromised, or persons with co-morbidities (e.g. heart or lung disease, diabetes, and obesity). In recent months, a surge of COVID-19 has occurred due to the emergence of the highly transmissible Delta variant of SARS-CoV-2. So, vaccination and following recommended mitigation steps such as wearing a mask, social distancing, and hand hygiene remain critically important preventative measures. 
Vaccination is the key to prevention. The U.S. FDA has given Emergency Use Authorization (EUA) approval for three COVID-19 vaccines (Pfizer, Moderna and Janssen); all have been shown to be safe and highly effective. A fully vaccinated person has an approximately 10-fold lower risk of severe disease, hospitalization or death due to COVID-19 and is much less likely to transmit COVID-19 to family, friends, or community members.
Monoclonal antibody (mAb) use for mild-to-moderate COVID-19 in high-risk persons. Among immunocompromised and other higher risk persons (e.g. elderly, those with co-morbidities), monoclonal antibody (mAb) may be an appropriate option for individuals with mild-to-moderate COVID-19. mAb have been shown in trials to reduce mortality by ~60-70% in high risk patients not requiring hospitalization or supplemental oxygen therapy. Unvaccinated high-risk persons or those not expected to mount a normal immune response to vaccination are the highest priority for mAb treatment.
Monoclonal antibody therapeutic treatments are shipped nationwide. Patients should coordinate with their respective physician or healthcare provider before contacting a location to receive mAb treatment. A call center is available to answer questions and provide information related to monoclonal antibody therapeutic treatments at the following phone numbers: 1-877-332-6585 (English Language); 1-877-366-0310 (Spanish Language)
Resources for Providers 
High-Risk COVID-19 Patients May Avoid Hospitalization with Monoclonal Antibody Treatment
Monoclonal Antibody Treatment for High Risk COVID-19 Positive Patients
Combat COVID: Monoclonal Antibody Resources for Clinicians
Resources for Patients
FAQs about Monoclonal Antibodies for Consumers
Combat COVID: How Do I Know If I'm High Risk, And What Do I Do Next?