Office of Public Health Preparedness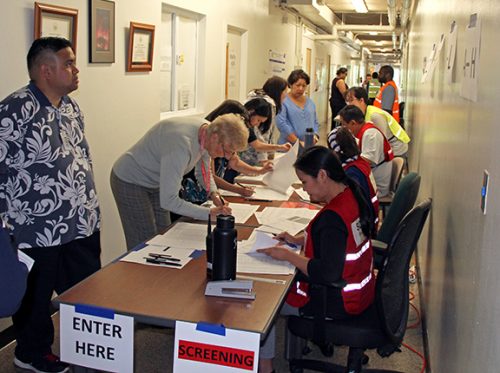 The Office of Public Health Preparedness (OPHP) is tasked with preparing for, responding to, and assisting in recovery from natural and human-caused public health incidents and threats. Helping the public be prepared for natural and manmade disasters is also a key responsibility.
Funded by a Hospital Preparedness Program-Public Health Emergency Preparedness cooperative agreement with the U.S. Centers for Disease Control and Prevention (CDC), OPHP is responsible for coordinating the Department of Health's (DOH) emergency preparedness activities and facilitating DOH's roles and responsibilities to protect the public's health and safety in the event of an emergency or disaster. (OPHP was formerly the Public Health Preparedness branch of the Disease Outbreak Control Division (DOCD), but was reorganized as an office under the Director of Health in May 2018.)
Along with its broader health emergency preparedness responsibilities, OPHP also coordinates Hawaii's smallpox vaccination program, administers the Strategic National Stockpile for distribution of emergency pharmaceuticals in case of public health emergencies, and collaborates with the Hawaii Emergency Management Agency (HI-EMA), Hawaii Healthcare Emergency Management (HHEM), county emergency management and civil defense agencies, and other related stakeholders in the development and implementation of state and county response plans for bioterrorism and other public health emergencies.
Public Health Preparedness Resources
Contact Us
Mailing address: 1250 Punchbowl Street, Honolulu HI 96813
Last reviewed June 2018