Training and Conferences
Training Announcements
Two Training Sessions in June! 
Maui on June 2, 2017 – Kauaʻi on June 6, 2017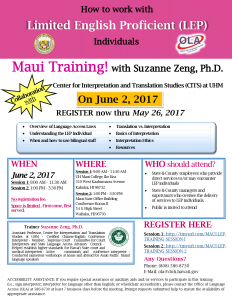 How to Work with Limited English Proficient (LEP) Individuals
TOPICS:
Overview of Language Access laws
Understanding the LEP individual
When and how to use bilingual staff
Translation vs. Interpretation
Basics of Interpretation
Interpretation ethics
Resources
TRAINER:
Dr. Suzanne Zeng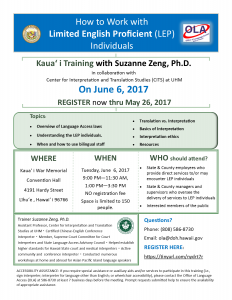 • Assistant Professor, Center for Interpretation and Translation Studies at UHM • Certified Chinese-English Conference Interpreter • Member, Supreme Court Committee for Court Interpreters and State Language Access Advisory Council • Helped establish higher standards for Hawai'i State court and medical interpreters • Active community and conference interpreter • Conducted numerous workshops at home and abroad for Asian and Pacific Island language speakers
WHO SHOULD ATTEND?
State/County employees who provide direct services to/or may encounter LEP individuals.
State/County managers and supervisors who oversee the delivery of services to LEP individuals.
Public is invited to attend.
Space is Limited; first-come, first served
SPONSORED BY: State of Hawai'i- Office of Language Access Center for Interpretation and Translation Studies, UH Manoa
Registration links:
Maui – June 2, 2017:
Kauaʻi – June 6, 2017:
---
Summer Intensive Interpreting Training (SIIT)  July 3 – August 11, 2017
SIIT is a rare oppotunity to receive short-term professional training in simultaneous and consecutive interpreting.
Apply now at cits.hawaii.edu
Languages offered:
Japanese, Mandarin, Spanish, French, Korean, & Vietnamese
by Center for Interpretation & Translation Studies (CITS), University of Hawaiʻi an Mānoa
Annual Hawaii Conferences on Language Access
| | |
| --- | --- |
| 9th Annual Hawaii Conference | Access here |
| 8th Annual Hawaii Conference | Access here |
| 7th Annual Hawaii Conference | Access here |
| 6th Annual Hawaii Conference | Access here |
| 5th Annual Hawaii Conference | Access here |
| 4th Annual Hawaii Conference | Access here |
| 3rd Annual Hawaii Conference | Access here |
| 2nd Annual Hawaii Conference | Access here |
| 1st Hawaii Conference | Access here |