Managing Asthma
TAKE THE ASTHMA CONTROL TEST
The Asthma Control Test is a tool that measures whether a person is in control of his or her asthma. The five-question test is available for children ages 4-11 years old, or for ages 12 through adult.
MAKE AN ASTHMA ACTION PLAN
All people with asthma should have an Asthma Action Plan – also called an asthma management plan – a written document that you develop with your doctor to help control your asthma. The plan:
Shows your daily treatment, such as what kinds of medicines to take and when to take them;
Describes how to control asthma long-term;
Explains how to handle worsening asthma symptoms or asthma attacks; and
Explains when to call the doctor or go to the emergency room.
INFORMATION FOR PARENTS AND CAREGIVERS
Did you know that in Hawaii, under State law HRS 302A-1164, children with asthma are allowed to self-carry their asthma medication and/or keep their asthma medication with the school nurse or school health assistant?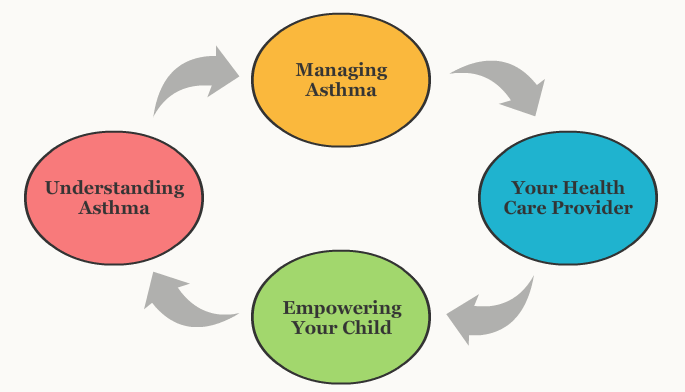 As a parent of an asthmatic child, take the proper precautions to ensure the health of your child:
Make an Asthma Action Plan with your child's pediatrician;
Share this plan with family, childcare personnel, school officials, and coaches;
Become aware of what triggers your child's asthma;
Educate yourself by completing the American Lung Association's Asthma Basics program online or by attending an Asthma 101 program in person.
INFORMATION FOR TEACHERS AND COACHES
Children spend the majority of their days at school, in childcare, or in after-school sports and activities.  Many of these children may suffer from asthma.  Approximately 1 child out of a team of 15 student athletes will have asthma.  There are several things that schools, childcare facilities, and coaches can do to ensure the health and safety of students with asthma:
Make sure you identify students with asthma;
Make sure you can identify the signs and symptoms of an asthma attack or worsening asthma;
Check the daily air quality;
Check out the Asthma Clipboard Program.  The program is a 30-minute online education program that focuses on:

How to identify students experiencing worsening asthma or an asthma attack;
What medications are used and when to use them;
Ways to prevent exercise-induced asthma; and
Steps to take when athletes are experiencing worsening asthma or asthma attacks.

Have an asthmatic student create an Asthma Action Plan with his or her doctor;
For health questions related to your student's school, please contact the Public Health Nurse in your area.